Sean Peters Memorial Sunday May 24 Schedule
Evergreen Speedway welcomes the NW Truck Pulls May 24th to the arena for down & dirty four wheel drive sled pulling action. The back gate will be open early at 9:00 AM. Evergreen racers are welcome but Truck Pull teams will have priority to get in, get registered and get teched. Check out the rules NWTruckPulls.com and come early, maybe even run your hauler!
Galloway Shootout Friday and Saturday, May 22 & 23 Detailed Schedule
Late Pit Stop Brings Fans to their Feet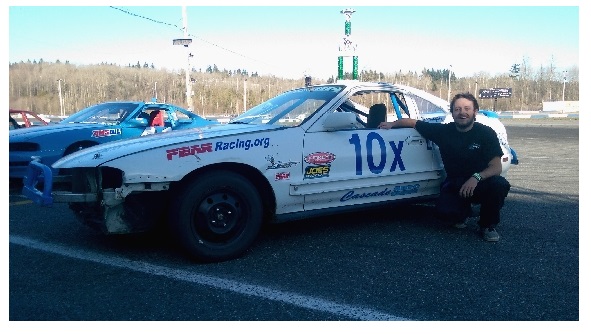 Cody Hoopes of  Redmond, WA.  capitalized on a lucky starting draw for the Interstate Batteries March Madness enduro at Evergreen Speedway and led every lap to claim his first 3 Hour Enduro victory, but not before the drama of a late race pit stop nearly cost him the win. Mark Hubbard closed to within five car lengths, but didn't have quite enough at the end to exploit Hoopes' stop for fuel in the closing minutes of the race. A jubilant Chris Bannon finished third while Cullen Hubbard and Andy Reece rounded out the top five.
Hoopes pulled number one in the pre-race draw for starting position and never looked back as he led every lap. By the ten minute mark the top five had settled in at the front for a long afternoon of racing. Pit stops jumbled the field occasionally, but the leaders remained the same with only Reece falling as far back as 7th after pitting. The racing was exciting as the leaders stayed bumper to bumper through heavy traffic for most of the first half of the grind. As yellows flew and pit stops came into play, Hoopes remained on the point as Cullen Hubbard pitted first, staying on the lead lap. Mark Hubbard pitted a lap later and lost a lap in doing so. Later a flat tire cost Cullen a shot at the win and Mark paced himself, only pushing to get past the leader and back on the lead lap as the two hour mark came and went.
With time winding down everyone wondered if young Hoopes could go the distance on a single tank of fuel. All questions were answered as the race clicked past the five minutes to go mark and Hoopes car sputtered down the back stretch. He dashed into the pits and his crew went to work, stopping momentarily for only a splash of fuel. Hoopes charged down pit road and back into action a mere 5 car lengths ahead of M. Hubbard of Bothell. With a scant two to go, Hubbard desperately tried to close the distance, thrashing his Honda Prelude around every turn trying to reel in Hoopes, but had to settle for second in the end. Mark later admitted he had nothing for Cody. He said, "I should have pushed harder after getting by him [Hoopes] to get my lap back. I couldn't believe it when he came out of the pits right in front of me!"
When reminded of the $500.00 first prize in victory lane, Hoopes showed the concentration and drive of a champion, saying, "I completely forgot about that. That's awesome! I was just going for the win." Next up at Evergreen is an open Drift event March 14th and then the NASCAR season officially kicks off April 4. Get all the details at www.EvergreenSpeedway.com.

The Pacific Northwest witnessed the beginning of a new Super Late Model racing endeavor as the Tri Track Super Late Model Series kicked off its inaugural season in 2014. In the first year the series saw over 80 drivers take the green flag with 10 different winners over the course of an 11-race schedule. The series returns in 2015 with some new additions including two new tracks, a new series director and some of the region's biggest names committing to the sophomore season.
The eight-race series will take place at four of the premier tracks in the Northwest including two of its anchor facilities, Wenatchee Valley Super Oval and Yakima Speedway joined in 2015 by Monroe's Evergreen Speedway and Stateline Speedway in Post Falls, ID.
"We really wanted to expand on the great success we had last year and planned to add new tracks if possible," said Garrett Evans, series promoter and Wenatchee Valley Super Oval owner. "Both Evergreen and Stateline are premier facilities from top to bottom and will add some variety for both drivers and fans during our 2015 season."
This will be the 50th Year for the Pollock Family operating Yakima Speedway and will have two of their most historic race weekends, Apple Cup and the Fall Classic as the part of the series. The Apple Blossom 200 at Wenatchee Valley Super Oval and Idaho 200 at Stateline Speedway will also be big events on this season's schedule.
The Mark Galloway 150 at Evergreen Speedway will be one of the races to watch, as it will be contested on the .675-mile track and is one of only three races on the bigger surface at the Monroe facility during their 2015 season.
Late model drivers are already showing interest in the 2015 Tri Track Series season including champions from across the region. Leading the charge is four-time late model touring champion, Gary Lewis, who will be out to match defending Tri Track champion, Garrett Evans, as a five-time late model touring title winner.
Also planning a run for the Tri Track championship will multi-time Yakima Speedway champion, Owen Riddle and past Inland Northwest Super Stock Series champions, Braeden Havens and David Garber. All 3 drivers made starts with the series in 2014 but look to make championship runs in 2015. The reigning Tri Track Series Champion and 4-time NASCAR Northwest Tour Champion, Garrett Evans, will return to defend his title. The list is growing with other drivers looking to lock up a spot in the 2015 season including Mitch Kleyn, Lucas Valdez, Zach Moran and Tim Babcock.
Doug Pace will take the reigns as the Series Director in 2015 and couldn't be happier about joining the series staff.
"Last year the Tri Track Super Late Model Series really showed the Northwest some great things and we're looking to build on that to make 2015 even better," he said.
Pace will bring plenty of experience to the table including media leadership with the NASCAR Northwest Tour and ARCA West Late Model Challenge Series, administrative roles with regional race tracks including Yakima Speedway and Montana Raceway Park and management experience in several of the country's leading financial institutions.
"We are really excited to have somebody like Doug step up and want to join the series," Evans said. "We have a great group of guys that have a lot of experience and passion for the series, adding Doug will just make it even stronger".
Staff set to return to the series under Pace's leadership include Media Director Jeremy Anders, Technical Director Marv Boehling and Technical Inspectors Jim Wilson and Craig Anderson. Also joining the series will be former NASCAR Sprint Cup team member and past NASCAR Northwest Tour Car owner, Jarrod Goodwin, who will work in a technical role.
"I believe with the staff that we have in the series we are building for our present and future success. Our goal is to become a top series in the Pacific Northwest to be among the best on West Coast." Pace added.  "We want to provide drivers, fans and sponsors a first class series that they look forward to being a part of each race weekend."
Increased payouts will be an attraction that should help with overall car count each race. With a minimum of $5,000 to win up for grabs in seven of eight races next season and a tire contingency program through a partnership with Hoosier Racing Tires, the Tri Track Super Late Model Series will be an exciting program, Pace added.
"We have Hoosier stepping up to provide a contingency program for our drivers and we are working with partners to add to that package for drivers that are part of our points structure throughout the season."
For more information on the Tri Track Super Late Model Series follow them on Facebook or email tritrackseries@gmail.com
Monroe, WA – Two of the richest Super Late Model events of 2015, just raised the stakes.  As Doug Hobbs of Evergreen Speedway, the host of the June 27th, 2015 "Summer Showdown", and Larry Collins, who's team will bring the "Winter Showdown" to Kern County Raceway Park on February 28th, 2015, announced a $10,000 bonus award to the driver who performs best overall at the two events.
"We thought this was a great way to tie the two races together, and create some extra incentive for teams to travel to both of these big events," stated Hobbs.  "We're excited about working with Larry and his staff, and look forward to the association between the Winter and Summer Showdowns."
In 2014, Summer Showdown winner Cameron Haley drove off with $21,000.00 in prize money after claiming the Don Scriver Pole Award and winning the annual 200-lap race at Evergreen Speedway.
For 2015, both the Winter Showdown at Kern County Raceway Park and Summer Showdown at Evergreen Speedway will pay $25,000.00 to each of its winners, with over $125,000.00 being paid out in prize money at each event.
"Doug and everyone at Evergreen Speedway have done a great job with the Summer Showdown.  We see events like these as a way to inject excitement into our sport, so together we're building two big events for teams and race fans to look forward to year after year." added Collins. "It's a hellava incentive for someone to have the shot at pocketing $60,000.00 by winning both races, and scoring the bonus. Race teams from coast to coast have already been calling for more information."
Concord, North Carolina standout driver Preston Peltier has already made plans for the Winter Showdown. "We're looking forward to coming out for the Winter Showdown in February, and if we do well, we'll be back for the Summer Showdown at Evergreen," stated Peltier, a three-time winner in the PASS South Series in 2014.  Peltier, works at Hendrick Motorsports during the week and spends his vacation days competing in PASS events and other marquee Late Model races, such as the Snow Ball Derby and the World Crown 300 which he won in 2013.  "We've been wanting to come out and do some of the big west coast shows and these two races are going to be events that a lot of drivers will want to come out to be part of next year."
The combined payout for the Winter Showdown and Summer Showdown will exceed $250,000.00, including the $10,000.00 bonus paid to the top team overall fore two events.
The "Winter Showdown", February 26th, 27th and 28th, 2015 at Kern County Raceway Park in Bakersfield, California, for more information go to www.SRLSouthwestTour.com.
 The "Summer Showdown", June 25th, 26th and 27th, 2015 at Evergreen Speedway in Monroe, Washington, for more information, go to www.EvergreenSpeedway.com
Cameron Hayley Victory Photo, Kevin Ramsell, Speed51.com
Hayley and Fraser at Speed, Jeff Harris
The month of September crowned several champions at Evergreen and featured some notable performances from first time winners and veterans alike as the fabled speedway wrapped up its 60th season. The year was highlighted by several marquee moments, including a teenager leading all 200 laps of Summer Showdown, and the all time track record shattered on the 3/8 oval to a blistering 13.682. But the Saturday Night hot shoes were the real story as Evergreen Speedway stars broke records and laid down impressive performances to keep the fans on their feet all year long.
Arlington's Roger Drake, a veteran of more than 20 years, dominated Les Schwab Street Stock action with 7  wins in the 13 race season. The championship was the second in a row for Drake after collecting his first NASCAR championship with a similar performance in 2013. Roger also established a new track record of 18.683 on the 3/8, a time that would have been good enough for fast time in the Late Model (the Super Stock) division in the early 80's. Mike Marthaller took top rookie honors after advancing from the Mini Stocks with a fine first year performance that included leading many laps and a couple second place finishes. A win is just around the corner for the racer from Everett along with a bright career in racing. Three time champ Dave Lund appeared to have his new Camaro straightened out and took the win championship night in convincing fashion.
Quenton Borreson of Aberdeen capped off a brilliant Super Stock Figure 8 season with his 8th main even victory in the 10 race season in the expertly prepared Ford of Dave Brandenburg. The One Arm Bandit narrowly missed matching his father, Carl Zaretzke for most consecutive wins at 8 at Evergreen on August 31. He finished second by a bumper to Steve Schoenfeldt in a chaotic race that saw Borreson have to restart from the rear after suffering a flat while leading halfway through, the result of a collision at the intersection with Bruce Wilson. The Brandenburg crew returned Borreson to the race without losing a lap and Borreson led briefly near the end, but came up a mere six inches short of matching the mark that has stood for over 40 years as Schoenfeldt muscled his way back by on the final turn of the final lap.
Interstate Batteries Hornet saw second season standout Scott Hunt of Seattle and wily Mark Hubbard battle many nights for the top spot on the podium, the duo taking the top two positions 7 times in the 14 race season, the sophomore besting the 30 veteran of Bothell on four of those occasions and picking up two other wins for a total of 6 and the overall season championship. Young Cody Hoopes claimed his first ever win in the season ending main event, holding off Hunt in the closing laps. It was a sweet victory for Redmond's Hoopes, as his last shot at a win ended with his car upside down after a tangle with a lapped racer just a lap and a half from crossing the stripe first. The always gracious Hunt congratulated Hoopes on the podium for his much deserved triumph. Seattle's Justin Brave secured Rookie of the Year with a couple heat race wins and two third place finishes for an early taste at the podium in his young career.
Finally, the Buzz Inn Steakhouse Stinger 8's featured another Year of the Rookie as second generation racer Toby Jenkins bested the hyper-competitive field with a couple wins, the championship and top rookie honors to go along. Kirkland's Jessica Gray racked up 6 wins but it wasn't enough to match the consistency of the freshman racer from Monroe. Jenkins father, Mark Jenkins of Seattle and a notable Figure 8 racer himself in the 70's and early 80's, joined his son on track for the championship night event in a new racer of his own, bringing it home to a podium  finish in third, one spot ahead of his championship winning son! Hopefully we see more of this father son duel in 2015.
The Speedway's 60th season winds down this weekend with the Truck Mania demolition derby and wraps up October 25th the season ending Pumpkin Smash 300, an enduro for Hornet type cars. All are invited! Check out EvergreenSpeedway.com or call the office for more information.
"The Outlaw" Mike Steltz came out of a 15 year retirement in 2013 with outstanding equipment, support and focus in a renewed drive to be the best of the best on Figure 8 racing. What he experienced in the following 16 months was frustration and disappointment. Not be deterred, Steltz turned it around in the closing weeks of 2014 and secured his first A Main victory since returning to the arena and followed it up a few weeks later with his first season championship. He came into championship night the underdog and snatched top honors from the defending champion.
The night started with Ricky "The Kid" Deitz holding a scant 2 point margin over Steltz. The Outlaw out-qualified The Kid, setting himself up for the possibility of gaining more passing points and a better shot at the title. In the heat race, Steltz, starting sixth, got the jump on Deitz  who started fifth at the start and held  the advantage 8 laps later behind Mr. Excitement Steve Cox and Chris Curtis in Liberty. The tally after the heat showed Steltz with a one point lead going into the 60 lap main event.
After an aborted attempt, the main got started with Cox getting the jump on pole sitter Zach Larson, but not for long as Curtis took firm command by the end of lap three. Curtis (pictured below) was never seriously challenged, and had a shot at the championship as well, but the story was a few spots back, as Deitz looked to defend his title. All The Kid needed was a finish in front of The Outlaw to claim the prize. The duo worked their way through traffic, securing second and third by lap six, with Steltz never leaving the bumper of Deitz. Cowboy John Carlson and Doug Wilkinson completed the top five and they stayed that way past halfway. Steltz got into the bumper of Deitz a few times in traffic and showed the patience of a veteran in letting him go, quietly waiting for a better opportunity to move past and make a bid at the championship.  In the closing 15 laps, Cowboy started applying considerable pressure to the championship contenders, slipping by Steltz on lap 48 and then past Deitz, who appeared to be struggling, three laps later. Deitz was now clearly having mechanical difficulties as the rear end appeared to be locking and releasing unpredictably, allowing Steltz by a lap after Carlson. Deitz had an opportunity ruin The Outlaws first championship hopes going into the North turn on lap 53, but showed professional restraint, and backed off allowing Steltz to gain the breathing room he needed as Deitz would lose sight of him as his car continued to slow.
At the finish it was Curtis with a five second margin over Carlson, Steltz, Deitz and Wilkinson rounded out the top 5. Steltz (above) secured his first Outlaw Figure 8 championship in a remarkable turnaround in performance over the last few races of the season, with Deitz winding the season up second and Curtis, Pat Clark and the Boney Brothers owned Liberty taking third.
Jeff Harris Photos
Champ Sweeps Minis with It All on the Line!
Second generation driver Trenton Moriarity of Monroe, son of seven time Evergreen Speedway champ Tom Moriarity, claimed his first championship, Rookie of the Year honors and a Clean Sweep to finish a brilliant first season that included five main event wins and established himself as a dominant force for the future in north west motorsport. Going into the night tied for the lead in the Foster Press Mini Stocks with Darrington's 20 year veteran Bobby DeYoung, whichever driver finished in front of the other would claim their first championship.
Trenton started the night off by setting fast time in qualifying, the results of which placed both drivers in the same heat race. Moriarity blew by DeYoung on the second lap and led the heat race to the finish. No relief from the pressure was to be had however, as DeYoung crossed the line second, giving up only a single point. Not enough to alter the outcome of the main event, each driver knew beating the other was the only path to an overall season victory.
The final main event of the season got underway with Kyle Schukar taking the point from the pole for the opening laps. It wasn't long though before Moriarity asserted his dominance and took control on lap two and never looked back. Driving like a man possessed, Moriarity sailed past the first seven cars from his fourth row starting spot in about a lap and a half. DeYoung gave chase, settling into second with Andrew Schukar of Bothell in third until lap 13 when Andrew made a move on DeYoung with Nat Barber of Monroe in tow. Barber made an aggressive attempt to pass underneath and collected his good friend DeYoung going into turn three, seriously diminishing DeYoung's title hopes in the process.
DeYoung got started again and blended in fifth behind Monroe's Brad Thomas and Bothell's Scott Burby while Barber was issued a black flag for his efforts and served a stop and go penalty under yellow. Back under way, Morarity moved out to a three car length lead over Schuker, who mounted a challenge in the closing laps, but came up short as Moriarity would not be denied a perfect Hat Trick, setting quick time and leading every possible lap but two on the final night of his first Championship season. Leaving nothing on the table, Moriarity claimed Best Appearing as well. Schukar and Burby rounded out the top 3 with DeYoung finishing fourth and Thomas fifth. Post race inspection found all competitors to be legal and young Moriarity could enjoy his night with pride and confidence, free from rumor and innuendo. 2014 was truly Year of the Rookie. 
Jason Fraser redeemed himself from early season controversy by executing brilliant tire management skills and closing out the 2014 Evergreen season with a win in the 100 lap season championship main event on the 5/8 mile oval, becoming the only regular season race winner running the full 2900lbs with a spec head engine. Meanwhile, Mike Holden secured his first ever Speedway Chevrolet Super Late Model championship on the strength of a fourth place finish and five main event wins for the 2014 season.
The night started with Gary Lewis setting fast time with a blistering 22.304 qualifying lap. Rookie Gracin Raz impressed the heavily talented field with a second quick 22.333  in only his second outing on the big 5/8 in a full size race car. The race for season long top honors started with championship leader Mike Holden on the pole with challenger Tyler Tanner starting right behind in third. Tanner needed a win with Holden finishing outside the top five to have a shot at the championship. Taking no chances, Holden brought the field down for a quick clean start under Troy Drapers green flag. John Bender got the jump from the outside and paced the first five circuits before Naima Lang blew by the field from his outside fourth row starting spot to claim the point by the end of lap six. Holden steadily fell back, avoiding any conflict and saving his tires while Tanner did everything he could to give himself the best possible shot at glory.
Lang held the point until lap 28 when an ailing Ron Eaton had an internal engine problem and oiled down the surface for two full circuits bringing out the yellow, but not before Tanner found the dry spots and sailed into the lead while Lang fought for control. He remained there through a lap 34 caution when John Zaretzke got together with the the 30 of Canadian rookie Tyler Baker. Lewis worked his way up from his third row starting spot after the six car invert and briefly took over the top spot. Lewis' reign as the leader was short lived as Fraser applied just enough fuel to squeeze by two laps later. The trio of Fraser, Lewis and Tanner traded the top three spots several times in a thrilling display of speed and skill over the next 30 laps, with Tanner flexing some muscle and retaking the lead on a lap 49 restart, then falling back to third in a tight race with Lewis, then back up to second as the laps wound down. Holden made a late race charge at a podium finish to cap off his championship season, but had to settle for fourth as a late race caution set up a green/white/checkered finish favoring the superior horsepower of Lewis.
Fraser took top honors with Tanner second, Lewis third, Holden fourth and Jason Kooy rounding out the top five. That closed out the 60th season at Evergreen Speedway. 2015 will mark the 35th consecutive year running a regular Super Late Model division at the historic speed plant. Many competitors will be heading to Yakima Speedway for the annual Fall Classic and $10,000 to win and later, in February, to the new Kern County Raceway for the first running of Winter Showdown, to be run in conjunction with Evergreen's annual Summer Showdown. The Kern County affair will pay $25,000 to the winner and a whopping $125,000 purse. Look for more announcements coming very soon about exciting Late Model racing coming to the West Coast. Full stories on the rest of the action from Championship Night #1 coming shortly.
Photos by ME Wright Sports Photos 253-226-5937