First we will have a youth pit pass available starting this week only available at the backgate. The youth pit pass will be $20 and will not require a NASCAR License. It will be for anyone 13 years and younger. Every youth pit pass must have a parental consent form signed in person, or have a notarized copy. This program was investigated over the off season and is aligned with other NASCAR tracks around the country.
Secondly we will be introducing a Fan/Sponsor pit pass that will be available after 5pm for $30. This has come from many of our drivers asking us for a way to get sponsors and friends to enter the pits without having a NASCAR License for a lower price. This pit pass will have the restriction that anyone wearing this pit pass is not aloud to work on a car.
Both of these programs are on a trial basis and can be revoked at any time if the Speedway Staff feels there are safety issues or the programs are being abused. Please help us keep the pits safe and now family friendly!
Car show from 12:12 on
Pony rides beginning around 1:30pm
Easter Egg Hunt at 3:30
Car show from noon on
50/50 from 2-8:30
Kids games from 1:30 to 4:30
Music Times
START TIME 12:20
12:20-12:50 The Ride (classic rock)
12:50-1:05 band change
1:05-1:35 Goo Pah Band (popmusic)
1:35-1:50 band change
1:50-2:35 Grove Surfers (blues to top 40)
2:40-2:50 MC JAMZ & MYTHIKAL(quick rap)
2:50-3:35 Lost Dogma (country music)
3:40-3:50 Eric, Megan (Seahawks rap song)
3:50-3:55 VellVett (Seahawks rap song)
3:55-4:40 Jones & Fischer (top country band)
4:40-4:45 Sno Dub (Seahawks theme song)
Driver FanFest @ 5pm on the Track
Opening Ceremonies start @ 5:55
Marine Color Guard
INVOCATION
ANTHEM
We have tried very hard this year to accommodate other tracks in the area as well as certain traveling groups. We also tried to add some new exciting events…some worked out like the King of the Wing, and others fell through at the last second. With that we did make some minor changes to the schedule and have just re-posted. Most notable changes are the removal of the April 25th Mini Stock race and the June 20th Street Stock race.
http://www.evergreenspeedway.com/schedule-2/2015-saturday-night-schedule/
Register Below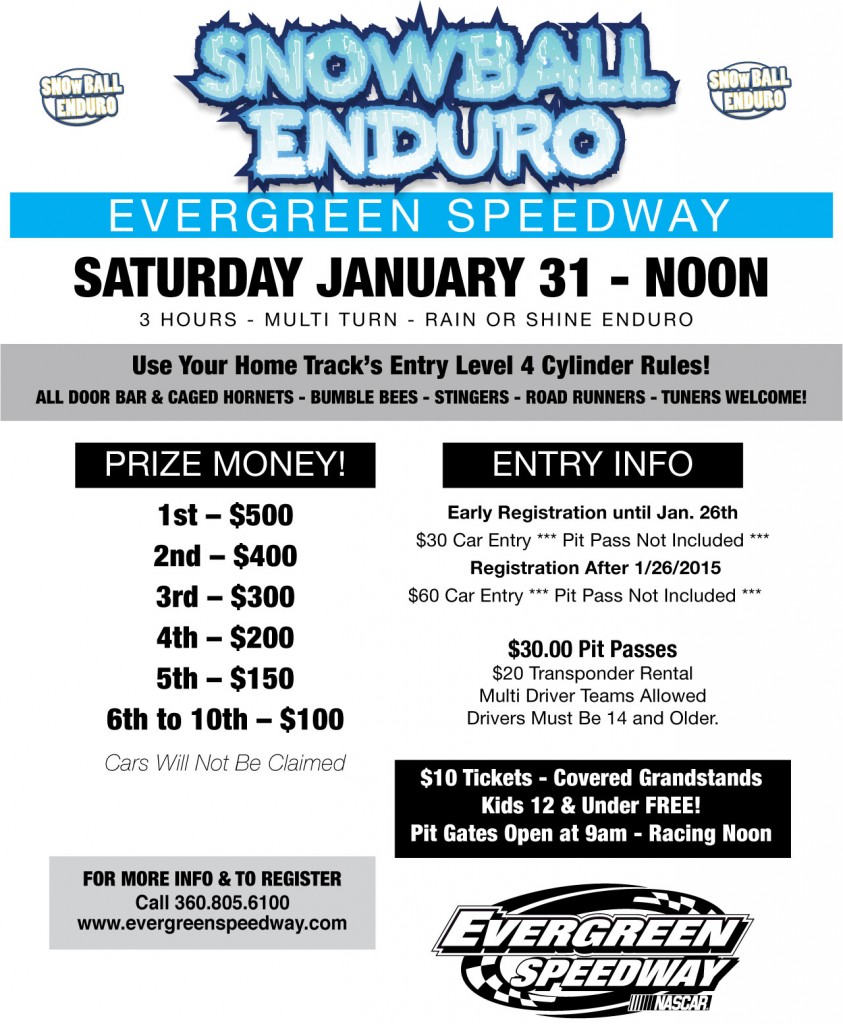 Evergreen Speedway is proud to announce the addition of two newest members of the Evergreen Speedway Hall of Fame. Ron Daggett and Donnie Scriver.
Ron Daggett a FEAR "rookie" 40 years ago this season, Ron helped create the FEAR Super-Stock class 35 years ago, was an original NASCAR member 30 years ago, and built a bunch of the fastest cars ever at Evergreen…and was the very first NASCAR Super Champion.
Donnie Scriver a two-time NASCAR Northwest Series champion car owner with retired driver Kevin Hamlin and also owned and sponsored cars for Travis Bennett from 2000 to 2008. Bennett was a four-time ASA Northwest Tour winner and the 2004 NASCAR Northwest Series championship runner-up finisher and also won Rookie of the Year honors that year.