Register Below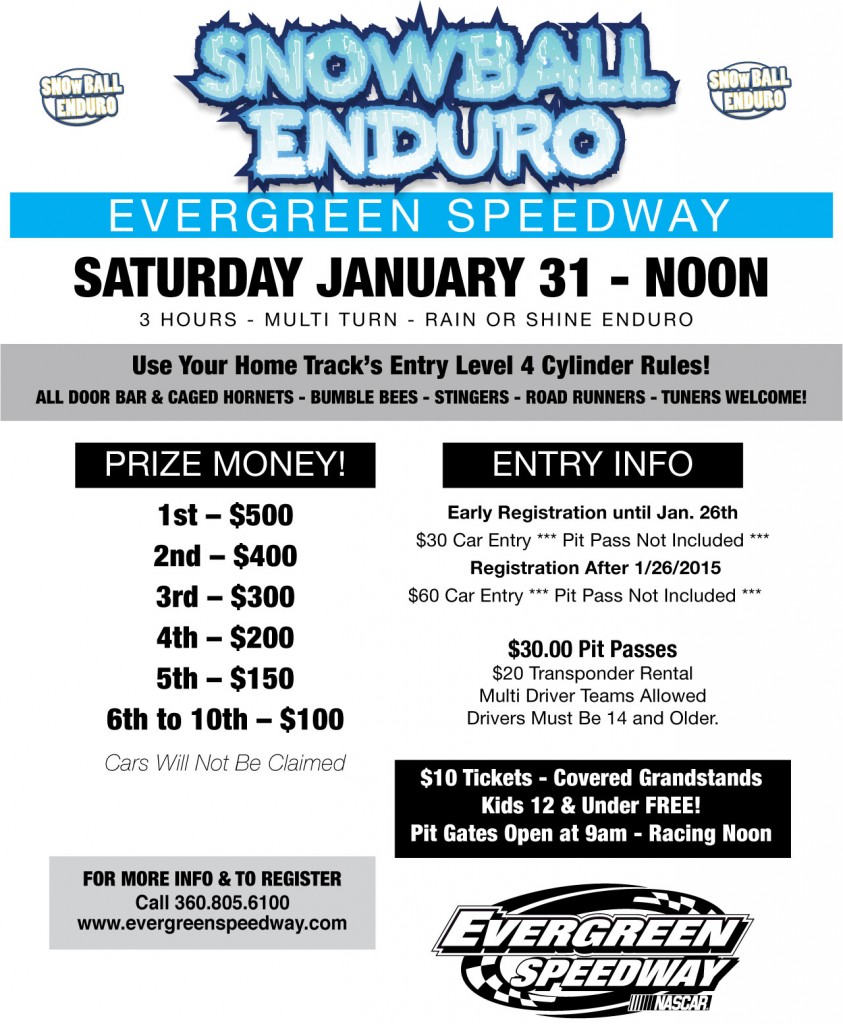 Evergreen Speedway is proud to announce the addition of two newest members of the Evergreen Speedway Hall of Fame. Ron Daggett and Donnie Scriver.
Ron Daggett a FEAR "rookie" 40 years ago this season, Ron helped create the FEAR Super-Stock class 35 years ago, was an original NASCAR member 30 years ago, and built a bunch of the fastest cars ever at Evergreen…and was the very first NASCAR Super Champion.
Donnie Scriver a two-time NASCAR Northwest Series champion car owner with retired driver Kevin Hamlin and also owned and sponsored cars for Travis Bennett from 2000 to 2008. Bennett was a four-time ASA Northwest Tour winner and the 2004 NASCAR Northwest Series championship runner-up finisher and also won Rookie of the Year honors that year.
This past weekend Evergreen Speedway was honored to receive the Reg Midgley award at the Western Auto Racing Promoters Association meeting in Portland for the 2014 Summer Showdown. We would like to thank all of the Sponsors, Fans, Employees and Drivers who helped make this possible. The 2015 race season can't come soon enough!! Showdown 2015 June 26th and 27th!!
Its that time of year again where we celebrate the previous race season at the end of the year banquet, but we also look back at the history of Evergreen Speedway with the annual Hall of Fame induction. We would like to invite our racing community to give us your thoughts on the 2014 member. Please fill out the form with the person you would like to see receive the award and then tells us why. Click Here for 2014 Hall of Fame Nomination Form
Hall of Fame List
1985 – Carl Zaretzke
1986 – Dale and Gail Youmans
1987 – Lyle Merrifield
1988 – Fred Butler and John Gay
1989 – Cascade Push Truck Association
1990 – Gene Brookover
1991 – Mike Estabrook and Ralph Lewis
1992 – The Pierce Family
1993 – Mick and Randi Tomlin
1994 – Joe Nye
1995 – Dick Avalo and Cole Porter
1996 – Phyllis and Gordy Stewart
1997 – Althea Butler
1998 – Lee Daily
1999 – Steve Dunn
2000 – The Ruddell Family
2001 – Gib Repass
2002 – Dennis Keeler and Gary Breakfield
2003 – Gary Cressey and Tom Moriarity
2004 – Bob Beadle
2005 – Ben Chandler
2006 – Tobey Butler and Gary Lewis
2007 – Doug Hobbs
2008 – Mickey and Lyn Beadle
2009 – Mike Buse
2010 – Doug Delfel and Scott Ellsworth
2011 – Doug Fisher
2012 – Don Perry
2013 – Daryl "D.W." Wheeler
First 25 Entries will Receive a $100 Gift Certificate from K&N Filters!