Click here for more information on Hot Import Nights –> http://www.hotimportnights.com/2015/08/october-3-2015-evergreen-speedway-monroe-wa/
Click here for Gymkhana Info –>> http://www.evergreenspeedway.com/post/gynhkana-at-hot-import-nights-registration/
The Washington State Champion would be crowned at Evergreen Speedway in Monroe, Washington on September 19 th. Mike Holden entered the final event of the 2015 Super Late Model season with just a slim lead in the standings over Doni Wanat.
BY TIM MCDOUGALD
Evergreen: Lang Wins The Battle, Holden Wins The War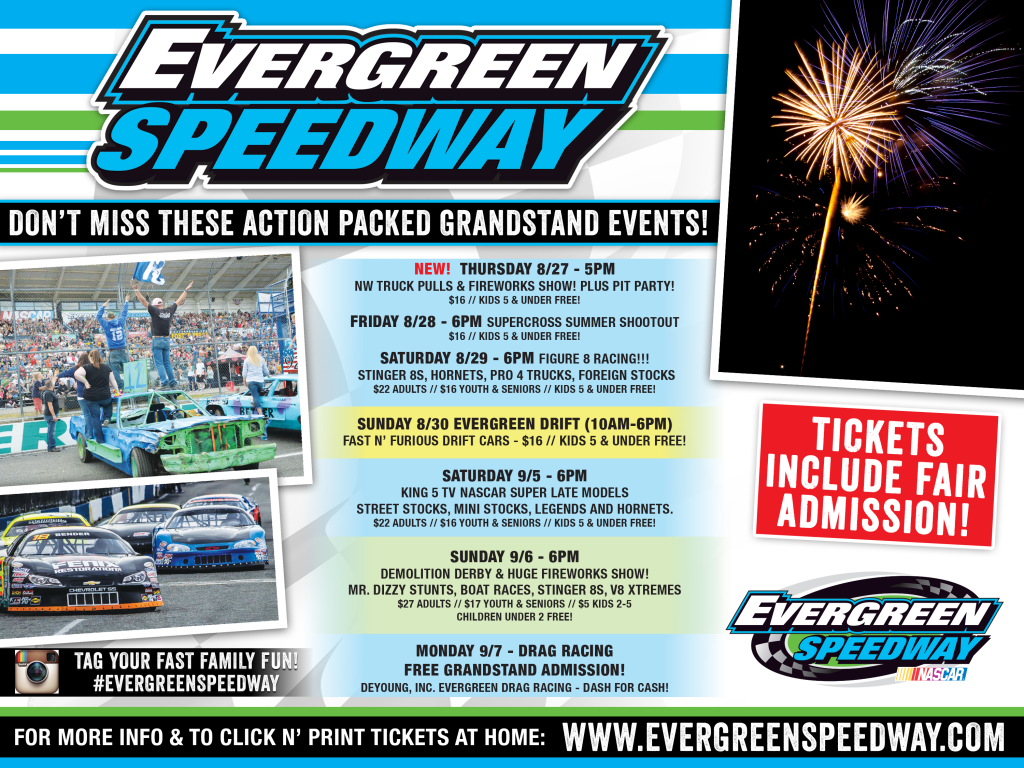 NEW! Thursday 8/27 – 5PM
NW Truck Pulls & Fireworks Show!
PLUS PIT PARTY at 5pm!
Grandstands & Trackside Access Open at 4pm | Fireworks at 9pm
$16 // KIDS 5 & UNDER FREE!
Get Tickets Online Here –> http://goo.gl/o5pK7N
---
Friday 8/28 – 6pm
Supercross Summer Shootout
"Northwest's Stars of Motocross Compete on a high-flying, challenging Supercross Track"
$16 // KIDS 5 & UNDER FREE!
Get Tickets Online Here –> http://goo.gl/tYaODl
---
Saturday 8/29 – 6pm
Figure 8 Racing!!!
Super Stock Figure 8, Stinger 8s, Hornets, Pro 4 Trucks, Foreign Stocks
"Stars and Cars Battle through the World's Most Dangerous Intersection in Wild Figure 8 Racing!"
$22 Adults // $16 Youth & Seniors // KIDS 5 & UNDER FREE!
Get Tickets Online Here –> http://goo.gl/kgPKLz
---
Sunday 8/30 – (10AM-6PM)
Evergreen Drift – ProAm Championship
FAST N' FURIOUS DRIFT CARS – $16 // Kids 5 & Under Free!
"As Seen on Youtube, Facebook & Instagram… ProAm Drift Drivers & Cars Compete for the Top Spot!"
Get Tickets Online Here –> http://goo.gl/GnvaSX
---
Saturday 9/5 – 6PM
KING 5 TV NASCAR Super Late Models
Street Stocks, Mini Stocks, Legends and Hornets
"Cars & Stars of the NASCAR Whelen All-American Series push the limits of speed in their quest for victory!"
$22 Adults // $16 Youth & Seniors // Kids 5 & Under Free!
Get Tickets Online Here –> http://goo.gl/jqhxUf
---
Sunday 9/6 – 6PM
DEMOLITION DERBY & HUGE FIREWORKS SHOW!
Mr. Dizzy Stunts, Boat Races, Stinger 8s, V8 Xtremes
"Smash, Crash.. Light up the Night Sky… Washington's Fair Tradition!"
$27 Adults // $17 Youth & Seniors // $5 Kids 2-5 // Ages Under 2 No Charge.
Get Tickets Online Here –> http://goo.gl/mvjDUP
*** Purchasing in advance, online highly recommended. ***
---
Monday 9/7 – DRAG RACING – FREE GRANDSTAND ADMISSION w/ Fair Ticket!
---
- Ticket Price Includes Fair Admission when bought in Advance.
- Buy Online, at the Fair Entrance Gates, Grandstand Box Office (*** Box Office Fees May Apply ***)
- Grandstands Open 60 Minutes before show times unless noted otherwise.
- Events Held Rain or Shine – Covered Grandstand Seating.
- Re-Entry into Grandstands Allowed with ticket and hand stamp.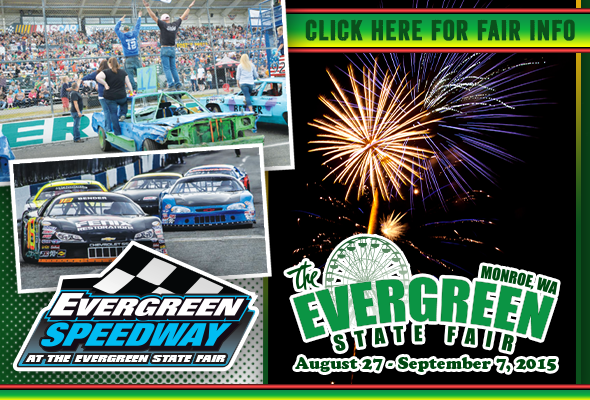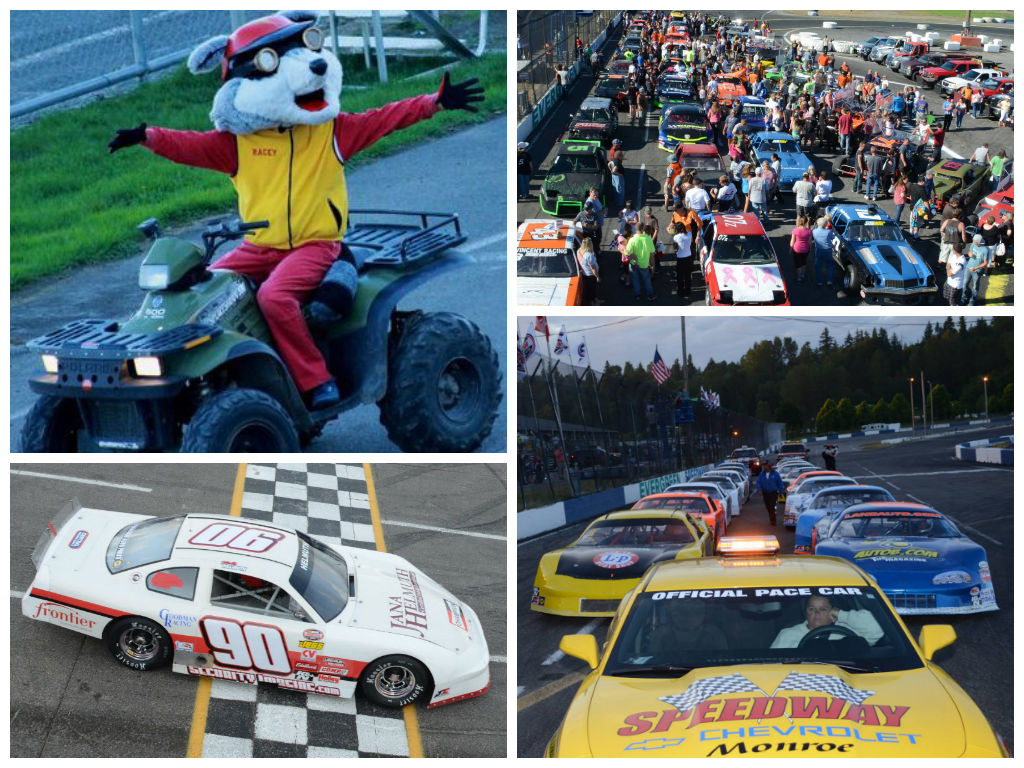 Don't miss an action packed night of high-speed thrills with your family at Evergreen Speedway. Join the fun at Frontier Family Nights. Kids 10 & Under are FREE! Grandstand Tickets are just $10. Fast, Affordable fun the whole family will enjoy.
See NASCAR Racing, wild Figure 8 cars, meet the drivers at FanFest and more!
2015 Frontier Communications Family Nights
Saturday August 22 – Get Tickets!
Grandstands Open at 4pm – Racing 6pm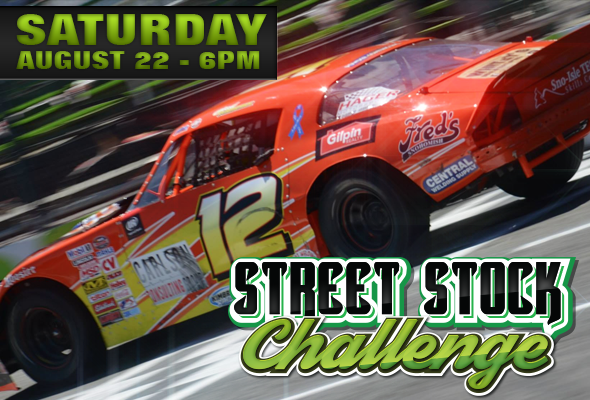 $1500 to win Street Stock Challenge. All Street Stock cars that race in the Northwest are invited! August 22, 2015 on the 3/8 oval.
1) Evergreen Cars. Printed track rules with these exceptions:
3000 lbs minimum with Evergreen legal Engine
57% Left Side
Carburetor:
A) 650 CFM list number 4777 or 80541
B) 750 list number 4779 or 80528
C) Tires: Hoosier 970 or American Racers 970
D) 8″ or 10″ steel rims
David Mayhew proved that Washington's Evergreen Speedway is his track. Earns Back-To-Back Wins At Evergreen Speedway.
NASCAR Home Tracks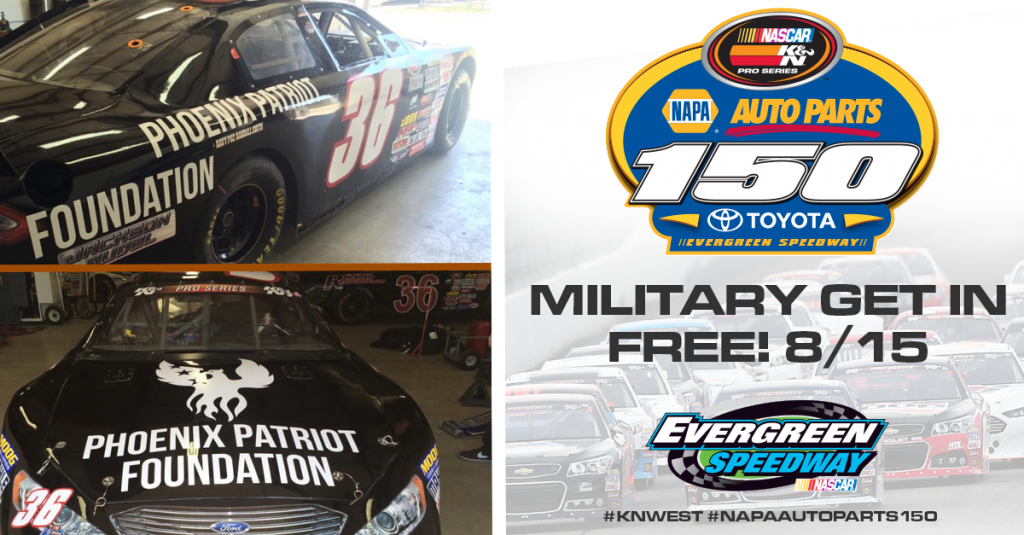 Active, Reserve, Retired Military – Show Your Military ID for FREE Admission!
Evergreen Speedway, NAPA Auto Parts, Toyota and more will salute the members of our Armed Forces this Saturday (Aug. 15th) with FREE complimentary admission to the races. Military members (Active, Retired, Reserve) can show their Military ID at the ticket gate for FREE admission to the events.
Come see the NASCAR K&N Pro Series West – NAPA Auto Parts 150 Presented by Toyota race. Plus a special 100-lap NASCAR Super Late Model race brought to you by Michael's Toyota of Bellevue.
Saturday Grandstands Open at 3pm | Qualifying, Prelim Racing | Racing at 6pm 
Kids 6 & Under are FREE, Other Ticket Discounts available at the Ticket Gate.
Tickets compliments of event sponsors. Thank you for your service!