What's your car got? Challenge your buddies at Evergreen Street Drags. Find out more at EvergreenDrags.com

Get Tickets Here!

Friday April 4
Times TBA
Pit Pass $30
Free w/ 2014 NASCAR License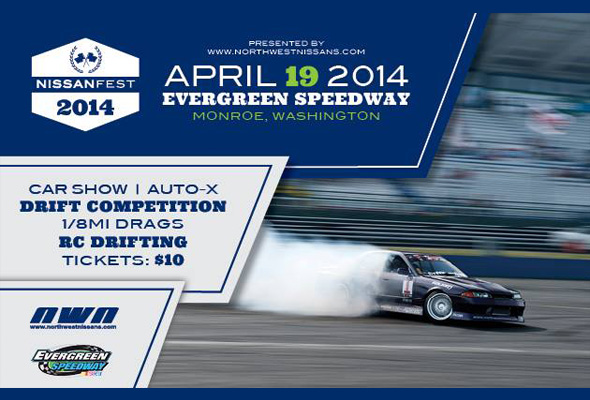 Saturday April 19 at 11am
This is our 3rd annual NissanFest event at Evergreen Speedway, with the success of last year we are happy to bring it back with even more events and activities for everyone to enjoy! This year we're bringing back the Car Show, Drift Competition and adding some other great activities for all automotive enthusiasts.
General Admission – $10
Do you want a season pass but don't have the funds until December? We can help! We have partnered with PayPal to bring you Bill Me Later!
What is Bill Me Later?
• A simple, flexible credit line that gives you more time to pay.
• Fast and easy—no credit card to enter and approval just takes seconds.
• Add it to your PayPal account and get more time to pay at most places PayPal is accepted.
• Enjoy the peace of mind that comes with PayPal security and reliability.
• Bill Me Later is also available as a separate payment option at thousands of stores.
Just click this link, select Check Out or Check Out With PayPal and choose Bill Me Later! http://tiny.cc/2cconw
For more information about Bill Me Later, Click here: https://www.paypal.com/webapps/mpp/billmelater-productoverview
Oct 20th   INTERSTATE BATTERIES – PUMPKIN SMASH 3 HOUR ENDURO   4 Cyl. Coupes or Sedans.
Your Home Track Hornet Rules apply!  Come race!!
Must Mount at least a 30″ Pumpkin to your Front Bumper!
Drivers must be at least 14 years of age!  Course includes the pits-5/8-3/8 and 1/5 mile!!
PAYOUTS —1000  500  400  300 250  200 175 150 125 100
Early Registration until Oct. 15th –*$30.00 Car – Pit Pass not included
**$60.00 after 10/17/2012      $30.00 Pit Passes        $20 Transponder Rental
Cash and Trophy for the BEST appearing Car!
$100.00 BONUS to the highest finishing driver with the most PUMPKIN still intact at the end of the race!
Prizes for the Best Fan Halloween Costume Contest!  Kids Carved or Colored Pumpkin contest!
$10 Admission for ages 12 and over or $5.00 and 3 cans of non perishable FOOD for our Fall Food Drive!
FANS GET TO SMASH THE PUMPKINS FOR OUR WILD NEARLY 1 MILE RACE COURSE!!!  Rain or Shine event.  Racing at HIGH NOON!!!
Back Gate Opens at 10am
Late Model Drivers register below!
Purse is as follows:
2500
1250
1000
700
600
500
400
300 back