Saturday Dec. 5 – "Drift What You Drive" Open Drift – This event is open to all drivers and skill levels. Running Rain or Shine. Whether you are a ProAm competitor, Grassroots or just someone looking to slay tires this event is for you. This is a non competition day.
Drift School pairs new and interested drift drivers up with skilled ProAm drivers and mentors to learn the basic and entry level skills of drifting. Drivers must provide their own vehicle and helmets. This is open to all.
GET FULL EVENT DETAIL HERE  | FOLLOW ALONG ON FACEBOOK HERE
Please Register if you plan to attend drift school below.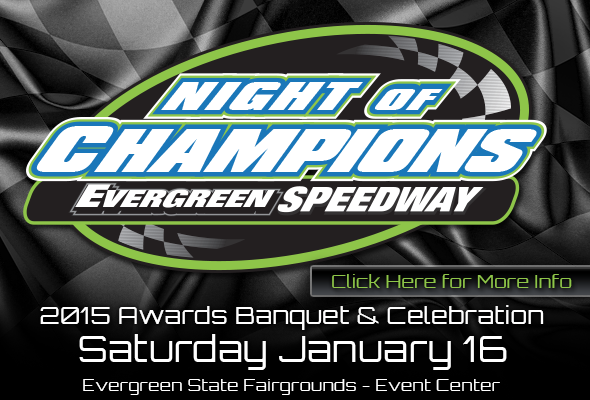 Evergreen Speedway  will honor motorsports champions, drivers and all teams from Evergreen Speedway, Evergreen Drift ProAm & Grassroots Series, NW Pro 4 Trucks and more on January 16!
Make plans today to attend. Contact friends, sponsors and pit crew members to share and save this date.
WHERE: Weikel Events Center at the Evergreen State Fairgrounds
WHEN: Saturday January 16 | No Host Cocktails 4:45 | Dinner at 6pm | Music Following Awards
***Attendees Must RSVP – There will be no walk up ticket sales at the event***
Watch for Ticket Info – Assigned Seating – Tables of 8 or 10. Your Name is held at the event check-in.
To RSVP / Buy Tickets call our office at 360-805-6100. Visit the Speedway office during business hours
Coming Soon – Click Here to Purchase Tickets Online
TIP: Make arrangements with your team and RSVP all at once for easy seating arrangements.
Whether you Drift, Drag, AutoX or compete every Saturday night with NASCAR, 425 Motorsports is great resource for gear. Checkout their Holiday promotions. It's a great way to give the racer in your family the ultimate stocking stuffer!
Earn $25 425 Bucks when you Purchase $100 – Click on the Links Below
Arrive at the track in 2016 sporting the best gear and safety equipment with help from 425 Motorsports. Shop online today, to save up 15% on some of your favorite and most popular Equipment Bags, Gloves, Head & Neck Restraints, Helmets and more.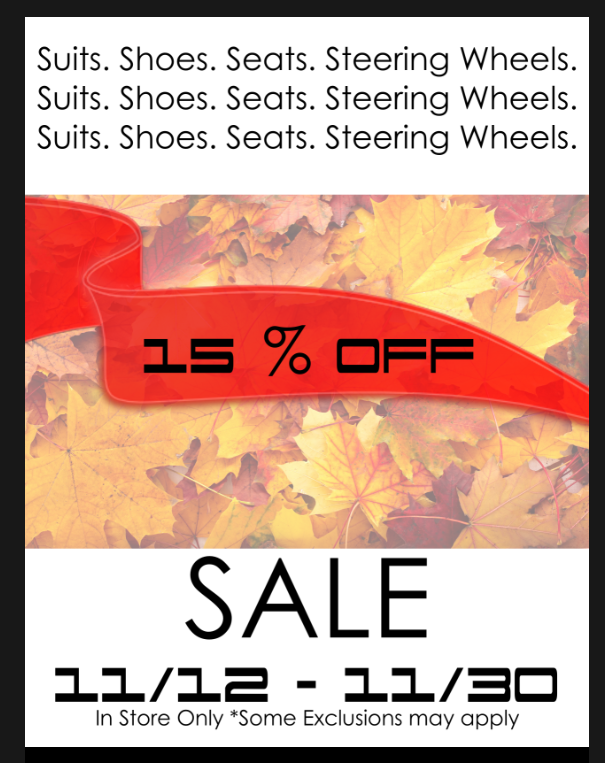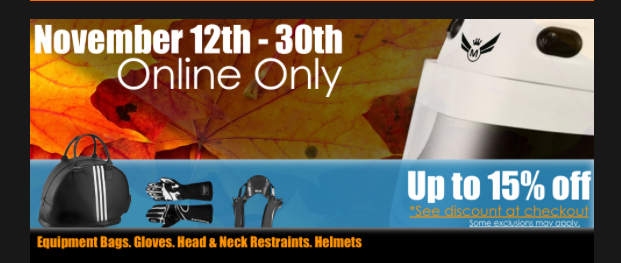 Here's a look at the results from from Northwest Nights Motorsports' Turkey Run Autocross event. Thank you to all the participants and for the donations to local food banks.
Classification - details - MYLAPS Sports Timing
Have you missed some of our recent Evergreen Drift Open Drift events? No, worries. We have more planned thru the winter months. But if you did, check out some of the pics our EVD Media Partners captured.
Open Drift Action Recap from 11-14!
Join the fun with AutoX – Car Show and Food Drive all day Saturday NOV. 21.
The team of Toby Jenkins / Cody Hoopes / Jason Kooy captured the win in the grueling 6-hour Interstate Batteries Pumpkin Smash Enduro. Team Rocco – Jay Carpenter / Justin Brave / Tom Berndt finished 2nd. Team JZ Motorsports finished 3rd after mechanical woes knocked them from a dominating lead with 20-minutes remaining.
Faceook #PumpkinSmash15 Coverage
9 Champions were crowned at Evergreen Speedway last Saturday night, in front of a crowd full of Seattle Seahawk fans, families supporting their drivers and teams along with the best fans any short track in the country would love to have.
With the pits full of hopeful winners, close to 130 different race cars in the 9 classes were represented. Teams had short practice sessions to determine their qualifying set-ups and how to transfer that set-up to work in the heat races and finally the main events that began after opening ceremonies at 4:30.
In the Speedway Chevrolet Super Late Model division, defending Champion Mike Holden was in a "start and park" situation, but being the true definition of "racer", Mike and his LB Motorsports team, driving a car loaned to them by Jeremiah Johnson attacked the race like it was the opening show of the season. Shane Sawin qualified 1st out of the 16 cars on hand. Molly Helmuth wowed the crowd with her qualifying time of 16.896 putting her in the 2nd spot, just shy of Sawin's time of 16.886.Tom Hughes continued to impress by qualifying 3rd. A 6 car invert put Brandon Shieber on the pole for the 75 lap main.
Naima Lang returned to his home track to capture the main event win. Doni Wannat finished 2nd with Molly Helmuth finishing 3rd. Lang proved that he hasn't lost his mastery of the 3/8's mile oval with his wire-to-wire victory. As a result of his 8th place finish in the main, Mike Holden now is a 2-time Champion to go with his father Rob Holden who won 4 Championships in his time with 2 in the FEAR Hobby Stocks and 2 in the Super Stocks from 1978 to 1984
Doni Wanat finished 2nd in season points, and Rookie of the Year Luke Selliken capped off his impressive season in 3rd.
It was a tight battle in the Les Schwab Street Stocks with defending Champion Roger Drake coming into the night with a slim lead over Chad Fitzpatrick. The best way to secure the Championship is to win the main event on the last night of the season, and that's exactly what Roger did, holding off a furious drive by Chad Fitzpatrick. Drake and Fitzpatrick wowed the crowd with an exciting 5-6 lap side by side battle for the lead before Drake pulled away to the win. Fitzpatrick finished 2nd in the race as well in the season points battle. The ever improving Carl Davidson finished 3rd in the 30 lap main event. Congratulations as well to Steve Ptacek for his 3rd place finish in season points.
Trenton Moriarty captured his 2nd Championship in the Foster Press Mini Stocks. Moriarty started off the season with 8 consecutive main event wins making it look like this division was almost over before it started. Scott Burby never stopped in trying to knock Moriarty off the top of the standings though. Coming into the last night of the season, Burby had 1 win under his belt, winning on a night that Moriarty had mechanical issues and several other cars didn't survive the night as well. Burby had mentioned on the Angel of the Winds Victory platform that he wished he could have really raced for the win that night, and on Championship night, Scott raced his way to the checkered flag. Moriarty finished 2nd and returning crowd favorite Bobby DeYoung returned to Evergreen to finish 3rd. The top 3 in season points for the division are Moriarty, Burby and Travis Woodward.
The "Cowboy" John Carlson achieved his 5th Championship in the FEAR Outlaw Figure 8 division, putting Carlson in dignified air with names such as Diets, Zaretzke, Cox, Delfel, Peters and Dailey as one of the all-time greats. John won the final main of the season over Chris Curtis, who came into the night trailing Carlson by only 2 points. Seth Funden finished both 3rd in the race and 3rd in the season points.
26 Interstate Battery Hornets attempted qualifying Saturday, with Cullen Hubbard taking the top spot. A B-Main event was held prior to the mains to round out the 20 car field for the A-main. 3 cars moved up to the main, including last season Champion Scott Hunt. In the end, it was Cody Hoopes winning the main event, with Mark Hubbard finishing 2nd and with his 3rd place finish, Mike Ridley achieved his 1st Championship in this popular division.
The Buzz Inn Steakhouse Stinger 8 race was a close one to call, as defending Champion Toby Jenkins came into the night with a 3-point lead over Brandon Lindberg. Jenkins and Lindberg battled tooth and nail throughout the main event, and there were several times that the Championship could have gone to either driver. Cody Hoopes pulled a 2-fer with his win in the Stinger 8 main, but in the end, it was Toby Jenkins getting his 2nd Championship in this crowd pleasing division, with Brandon Lindberg in 2nd and as of this writing, Matt Somerville finished 3rd.
In probably the most compelling Championship scenario of the night, the Monroe Grocery Outlet Super Stock Figure 8 title was won by defending Champion Quenton Borreson. Quenton had to relinquish the driving duties of the Dave Brandenburg owned Ford due to a broken thumb suffered during the Super Stock Figure 8 Invitational run about a month ago. They put veteran driver Tommy Gapp in the car, and it was agreed by all the competitors that the points that Tommy earned would go to Borreson. Doug Delfel trailed Borreson/Gapp by 3 points coming into the final night. Delfel was involved in a wicked wreck at the intersection on lap 19 that ended his night. In true Delfel fashion, he was one of the first to congratulate the #17 team at the end of the race. Steve Peters won the race, followed by Eric Allison and Tommy Gapp. Congratulations to Tony Hill for his 3rd place finish in the overall series points.
Doug Wilkensen finished off the season for the Northwest Pro 4 Trucks by winning his 4th main event this season at Evergreen and captured his 1st Championship. JR Kelly finished 2nd in the race followed by Rick Shaver. Wilkensen and his family have really gotten behind this fun series, and fans have really become attached to this exciting division.
The Columbia River Legends returned to the 3/8's mile oval to wrap up their 2015 season. Matt Rossler won the Championship for the season. Duane Swanson continued his winning ways at Evergreen with the main event victory, followed by Randy Beddow and Tristan Haider.