9 Champions were crowned at Evergreen Speedway last Saturday night, in front of a crowd full of Seattle Seahawk fans, families supporting their drivers and teams along with the best fans any short track in the country would love to have.
With the pits full of hopeful winners, close to 130 different race cars in the 9 classes were represented. Teams had short practice sessions to determine their qualifying set-ups and how to transfer that set-up to work in the heat races and finally the main events that began after opening ceremonies at 4:30.
In the Speedway Chevrolet Super Late Model division, defending Champion Mike Holden was in a "start and park" situation, but being the true definition of "racer", Mike and his LB Motorsports team, driving a car loaned to them by Jeremiah Johnson attacked the race like it was the opening show of the season. Shane Sawin qualified 1st out of the 16 cars on hand. Molly Helmuth wowed the crowd with her qualifying time of 16.896 putting her in the 2nd spot, just shy of Sawin's time of 16.886.Tom Hughes continued to impress by qualifying 3rd. A 6 car invert put Brandon Shieber on the pole for the 75 lap main.
Naima Lang returned to his home track to capture the main event win. Doni Wannat finished 2nd with Molly Helmuth finishing 3rd. Lang proved that he hasn't lost his mastery of the 3/8's mile oval with his wire-to-wire victory. As a result of his 8th place finish in the main, Mike Holden now is a 2-time Champion to go with his father Rob Holden who won 4 Championships in his time with 2 in the FEAR Hobby Stocks and 2 in the Super Stocks from 1978 to 1984
Doni Wanat finished 2nd in season points, and Rookie of the Year Luke Selliken capped off his impressive season in 3rd.
It was a tight battle in the Les Schwab Street Stocks with defending Champion Roger Drake coming into the night with a slim lead over Chad Fitzpatrick. The best way to secure the Championship is to win the main event on the last night of the season, and that's exactly what Roger did, holding off a furious drive by Chad Fitzpatrick. Drake and Fitzpatrick wowed the crowd with an exciting 5-6 lap side by side battle for the lead before Drake pulled away to the win. Fitzpatrick finished 2nd in the race as well in the season points battle. The ever improving Carl Davidson finished 3rd in the 30 lap main event. Congratulations as well to Steve Ptacek for his 3rd place finish in season points.
Trenton Moriarty captured his 2nd Championship in the Foster Press Mini Stocks. Moriarty started off the season with 8 consecutive main event wins making it look like this division was almost over before it started. Scott Burby never stopped in trying to knock Moriarty off the top of the standings though. Coming into the last night of the season, Burby had 1 win under his belt, winning on a night that Moriarty had mechanical issues and several other cars didn't survive the night as well. Burby had mentioned on the Angel of the Winds Victory platform that he wished he could have really raced for the win that night, and on Championship night, Scott raced his way to the checkered flag. Moriarty finished 2nd and returning crowd favorite Bobby DeYoung returned to Evergreen to finish 3rd. The top 3 in season points for the division are Moriarty, Burby and Travis Woodward.
The "Cowboy" John Carlson achieved his 5th Championship in the FEAR Outlaw Figure 8 division, putting Carlson in dignified air with names such as Diets, Zaretzke, Cox, Delfel, Peters and Dailey as one of the all-time greats. John won the final main of the season over Chris Curtis, who came into the night trailing Carlson by only 2 points. Seth Funden finished both 3rd in the race and 3rd in the season points.
26 Interstate Battery Hornets attempted qualifying Saturday, with Cullen Hubbard taking the top spot. A B-Main event was held prior to the mains to round out the 20 car field for the A-main. 3 cars moved up to the main, including last season Champion Scott Hunt. In the end, it was Cody Hoopes winning the main event, with Mark Hubbard finishing 2nd and with his 3rd place finish, Mike Ridley achieved his 1st Championship in this popular division.
The Buzz Inn Steakhouse Stinger 8 race was a close one to call, as defending Champion Toby Jenkins came into the night with a 3-point lead over Brandon Lindberg. Jenkins and Lindberg battled tooth and nail throughout the main event, and there were several times that the Championship could have gone to either driver. Cody Hoopes pulled a 2-fer with his win in the Stinger 8 main, but in the end, it was Toby Jenkins getting his 2nd Championship in this crowd pleasing division, with Brandon Lindberg in 2nd and as of this writing, Matt Somerville finished 3rd.
In probably the most compelling Championship scenario of the night, the Monroe Grocery Outlet Super Stock Figure 8 title was won by defending Champion Quenton Borreson. Quenton had to relinquish the driving duties of the Dave Brandenburg owned Ford due to a broken thumb suffered during the Super Stock Figure 8 Invitational run about a month ago. They put veteran driver Tommy Gapp in the car, and it was agreed by all the competitors that the points that Tommy earned would go to Borreson. Doug Delfel trailed Borreson/Gapp by 3 points coming into the final night. Delfel was involved in a wicked wreck at the intersection on lap 19 that ended his night. In true Delfel fashion, he was one of the first to congratulate the #17 team at the end of the race. Steve Peters won the race, followed by Eric Allison and Tommy Gapp. Congratulations to Tony Hill for his 3rd place finish in the overall series points.
Doug Wilkensen finished off the season for the Northwest Pro 4 Trucks by winning his 4th main event this season at Evergreen and captured his 1st Championship. JR Kelly finished 2nd in the race followed by Rick Shaver. Wilkensen and his family have really gotten behind this fun series, and fans have really become attached to this exciting division.
The Columbia River Legends returned to the 3/8's mile oval to wrap up their 2015 season. Matt Rossler won the Championship for the season. Duane Swanson continued his winning ways at Evergreen with the main event victory, followed by Randy Beddow and Tristan Haider.
Oct 3. Drift & Gymkhana - Schedule and Info | Evergreen Drift
Pre-Pay option is now over. Please register at back gate the day of the event.
The Washington State Champion would be crowned at Evergreen Speedway in Monroe, Washington on September 19 th. Mike Holden entered the final event of the 2015 Super Late Model season with just a slim lead in the standings over Doni Wanat.
BY TIM MCDOUGALD
Evergreen: Lang Wins The Battle, Holden Wins The War
The quote "I've been to Evergreen Speedway more times than I can remember and I have never seen it rain this hard" was the prevalent theme last Saturday at the Super Speedway of the West, as our incredible summer came to a screeching halt with the most intense storm recorded in Washington state history.
With the Evergreen State Fair in full swing, the winds in full gale and the rain at times in full "dump mode", the valiant race teams and Evergreen Speedway employees braved weather conditions that hadn't been experienced in decades. The highlight race of the night was the Monroe Grocery Outlet Super Stock Figure 8 Shootout scheduled for 75 laps. Season point leader and defending champion Quenton Borreson came into the night with a 15 point advantage over many time F8 champion Doug Delfel. Earlier in the day on Northsound Racings annual live show from the Evergreen State Fair, Borreson mentioned that there are several new cars that were put together just for this race. "Tommy Gapp has put together a complete rocket ship to run the race tonight" Borreson said. "Tommy's been a huge help with my car this season, and now he's put together a car that I'm really worried about. His car is so fast and Tommy is such a good driver that he'll be hard to beat tonight"
Main events started off with a 25 lap feature for the Northwest Pro 4 trucks. 7 trucks took to the 3/8's oval and in the end, Doug Wilkenson picked up his 3rd main event win over Rick Shaver and Cecil Howard rounding out the top 3. This win for Wilkenson was not nearly as thrilling as his last two given the fact that those races were won with last lap turn 4 passes to get the checkered. This race was not that close, but the win was just as sweet for the driver of the #27 truck. Wilkenson is leading in the NWP4TS championship point's battle with a 11 point lead over Mat Greene. The NWP4TS wraps up 2015 as part of the huge Championship Night September 19th here at Evergreen Speedway.
Dylan Biewald had a career night in the Interstate Battery Hornet 25 lap main event. Ran in a moderate rainstorm, Beiwald's Volkswagen Golf was set up for the rain and the "Boot" road course. Dylan mentioned on the Angel of the Winds Victory Stage that he had never finished better than 4th place, so this was special. Dylan held off some talented Hornet drivers with Cullen Hubbard finishing 2nd and Jeff Thomas taking 3rd. The division ran a non-points "Reverse Boot" race which included some Buzz Inn Steakhouse Stinger 8 cars. Brandon Lindberg won that race, with Cody Hoopes in 2nd and Matt Somerville getting 3rd. The "Boot" course starts with the cars taking the green and going into turn 1 of the 1/5th mile flat track. Thye then come out of turn 2 and go down the backstretch towards turn 3, but then make a hard right and head down an access road that connects to turn 3 of the 3/8's oval. They make the hard left onto turn 3 of the 3/8's and go through turn 4 and back to the start/finish line. Draw it out on a piece of paper and you'll see why it's called the "Boot".
The Buzz Inn Steakhouse Stinger 8's ran a 25 lap main.  The battle for the season Championship is going to be as close as you could ask for. Only 5 points separate 1st place driver Lance Ograin and 4th place driver and last season Champion Toby Jenkins! And to make it even better, only one point separates Ograin from 2nd place and Rookie of the Year contender Brandon Lindberg. The race played right into Toby Jenkins plans, as he won the race, with Lindberg finishing 2nd and Ograin finishing 3rd. With 2 races left in the season, this exciting class will certainly be fun to watch.
16 cars started the Monroe Grocery Outlet Super Stock Figure 8 Shootout. Quenton Borreson set fast time in qualifying with a lap of 17.528 on a dry/slick track. Steve "Mr. Excitement" Cox is a several time F8 Champion but this season has devoted his time assisting his son Dawson in the Buzz Inn Steakhouse Figure 8 division. As I took my walk around the pits in the afternoon, I ran into Hornet driver Nick Beecher, whose legs I spotted sticking out from under his race car. I asked him what the issue was, and he explained that his problem was terminal, but he was going to end up helping the #7 Super Stock F8 car. He told me that Steve Cox literally pulled his car out of a thicket of blackberry vines last week, and had spent the week getting it ready to race in the shootout!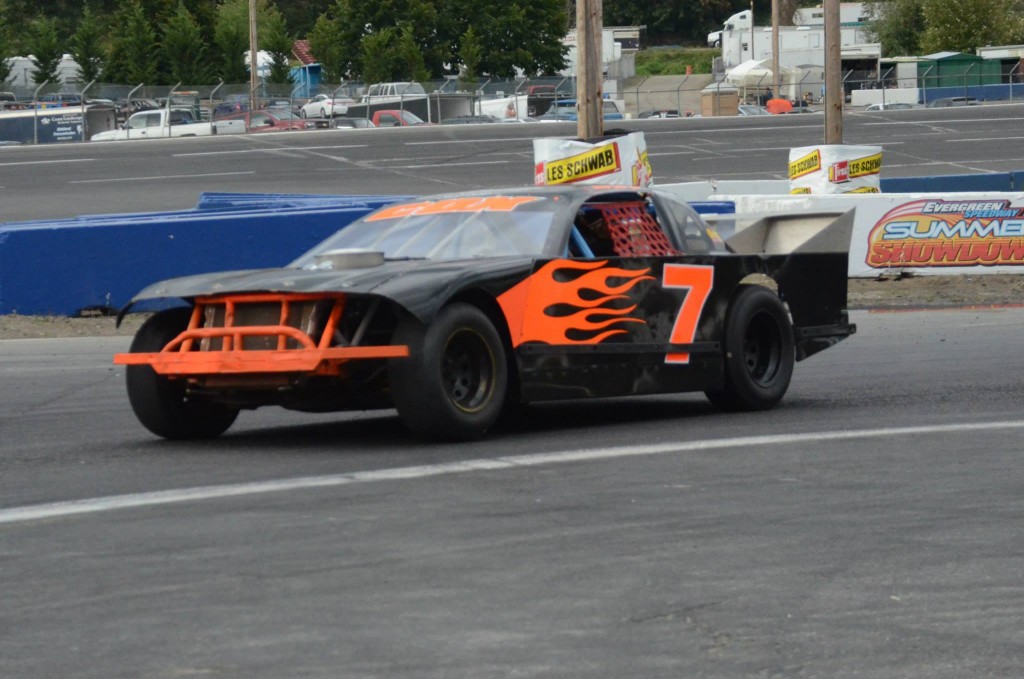 The race started and it was soon apparent that the former agriculture experiment of Mr. Excitement was going to be something to be contended with, as Cox jumped out to an early lead. Five laps in, hard contact between Tommy Gapp and the #81 car ended Gapp's night. And then it started to rain. And rain. And then it REALLY started to rain. On Lap 17, Quenton Borreson felt something going wrong with his car. The field was on a yellow flag caution, and Borreson started to head for the pits. The 77 car of Brandon Florer was coming back onto the track when Quenton was going in, and as these things tend to happen, Florer collided with Borreson ending the point leader's night.
Due to the insane weather conditions, officials decided to shorten to race to 50 laps. From the grandstands, it was like watching a Figure 8 hydroplane race. It was a race that was impossible to describe, let alone what it must have been like to race in! In the end, Steve Cox got the win, with Devin Jenkins in 2nd and Doug Delfel finishing 3rd. While waiting for the drivers to get out of their cars to get their trophies and interviews, all of the top 3 drivers were grinning from ear to ear, clearly enjoying being in a race unlike anyone has seen! Congratulations not only to the drivers, but the fans that stuck it out on a crazy night.
Quenton Borreson posted this on his Facebook page on Sunday: "This has become the moment I have feared my whole life. Multiple fractures from my thumb to the joint, full on splint, see a hand specialist Monday and surgery immediately to follow! I have always thought about what would life be like if I hurt my hand or arm, well now I am about to find out." Obviously, he is out for the season. The "One Armed Bandit" will be back in full force next season!
This weekend will be a busy one as Saturday will be KING 5 TV Night featuring the Speedway Chevrolet Super Late Models, the Les Schwab Street Stocks, the Foster Press Mini Stocks and the Interstate Battery Hornets. Sunday will be the Labor Day Demo Derby, Fireworks show and the return of Mr. Dizzy Mike Buse to his home track of Evergreen Speedway. It's also the last weekend of the Evergreen State Fair, and combo fair/race tickets can be lined up by checking out www.evergreenspeedway.com.
Steve Mortland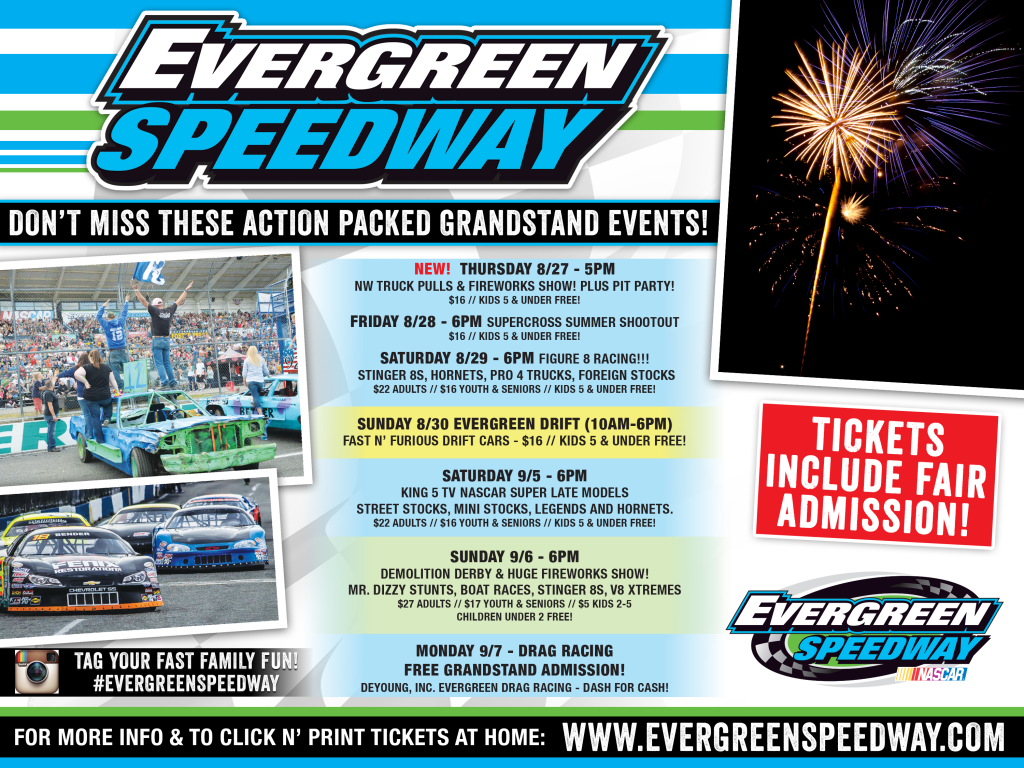 NEW! Thursday 8/27 – 5PM
NW Truck Pulls & Fireworks Show!
PLUS PIT PARTY at 5pm!
Grandstands & Trackside Access Open at 4pm | Fireworks at 9pm
$16 // KIDS 5 & UNDER FREE!
Get Tickets Online Here –> http://goo.gl/o5pK7N
---
Friday 8/28 – 6pm
Supercross Summer Shootout
"Northwest's Stars of Motocross Compete on a high-flying, challenging Supercross Track"
$16 // KIDS 5 & UNDER FREE!
Get Tickets Online Here –> http://goo.gl/tYaODl
---
Saturday 8/29 – 6pm
Figure 8 Racing!!!
Super Stock Figure 8, Stinger 8s, Hornets, Pro 4 Trucks, Foreign Stocks
"Stars and Cars Battle through the World's Most Dangerous Intersection in Wild Figure 8 Racing!"
$22 Adults // $16 Youth & Seniors // KIDS 5 & UNDER FREE!
Get Tickets Online Here –> http://goo.gl/kgPKLz
---
Sunday 8/30 – (10AM-6PM)
Evergreen Drift – ProAm Championship
FAST N' FURIOUS DRIFT CARS – $16 // Kids 5 & Under Free!
"As Seen on Youtube, Facebook & Instagram… ProAm Drift Drivers & Cars Compete for the Top Spot!"
Get Tickets Online Here –> http://goo.gl/GnvaSX
---
Saturday 9/5 – 6PM
KING 5 TV NASCAR Super Late Models
Street Stocks, Mini Stocks, Legends and Hornets
"Cars & Stars of the NASCAR Whelen All-American Series push the limits of speed in their quest for victory!"
$22 Adults // $16 Youth & Seniors // Kids 5 & Under Free!
Get Tickets Online Here –> http://goo.gl/jqhxUf
---
Sunday 9/6 – 6PM
DEMOLITION DERBY & HUGE FIREWORKS SHOW!
Mr. Dizzy Stunts, Boat Races, Stinger 8s, V8 Xtremes
"Smash, Crash.. Light up the Night Sky… Washington's Fair Tradition!"
$27 Adults // $17 Youth & Seniors // $5 Kids 2-5 // Ages Under 2 No Charge.
Get Tickets Online Here –> http://goo.gl/mvjDUP
*** Purchasing in advance, online highly recommended. ***
---
Monday 9/7 – DRAG RACING – FREE GRANDSTAND ADMISSION w/ Fair Ticket!
---
- Ticket Price Includes Fair Admission when bought in Advance.
- Buy Online, at the Fair Entrance Gates, Grandstand Box Office (*** Box Office Fees May Apply ***)
- Grandstands Open 60 Minutes before show times unless noted otherwise.
- Events Held Rain or Shine – Covered Grandstand Seating.
- Re-Entry into Grandstands Allowed with ticket and hand stamp.