First we will have a youth pit pass available starting this week only available at the backgate. The youth pit pass will be $20 and will not require a NASCAR License. It will be for anyone 13 years and younger. Every youth pit pass must have a parental consent form signed in person, or have a notarized copy. This program was investigated over the off season and is aligned with other NASCAR tracks around the country.
Secondly we will be introducing a Fan/Sponsor pit pass that will be available after 5pm for $30. This has come from many of our drivers asking us for a way to get sponsors and friends to enter the pits without having a NASCAR License for a lower price. This pit pass will have the restriction that anyone wearing this pit pass is not aloud to work on a car.
Both of these programs are on a trial basis and can be revoked at any time if the Speedway Staff feels there are safety issues or the programs are being abused. Please help us keep the pits safe and now family friendly!
Car show from 12:12 on
Pony rides beginning around 1:30pm
Easter Egg Hunt at 3:30
Car show from noon on
50/50 from 2-8:30
Kids games from 1:30 to 4:30
Music Times
START TIME 12:20
12:20-12:50 The Ride (classic rock)
12:50-1:05 band change
1:05-1:35 Goo Pah Band (popmusic)
1:35-1:50 band change
1:50-2:35 Grove Surfers (blues to top 40)
2:40-2:50 MC JAMZ & MYTHIKAL(quick rap)
2:50-3:35 Lost Dogma (country music)
3:40-3:50 Eric, Megan (Seahawks rap song)
3:50-3:55 VellVett (Seahawks rap song)
3:55-4:40 Jones & Fischer (top country band)
4:40-4:45 Sno Dub (Seahawks theme song)
Driver FanFest @ 5pm on the Track
Opening Ceremonies start @ 5:55
Marine Color Guard
INVOCATION
ANTHEM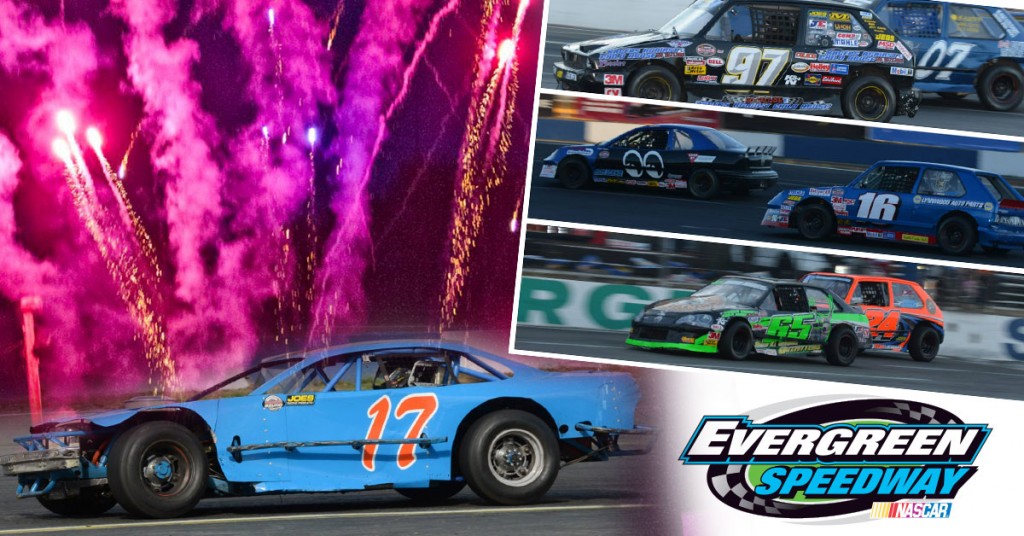 Get your tickets Today! $20 for Adults 16+, Kids 6-15 $10, Under 6 FREE!
FEATURING:
61st Annual Season Opener — Fireworks, Seahawkers Celebration, Mr. Dizzy, NASCAR Super Late Models, Super Stock Figure 8, NASCAR Mini Stocks, Stinger 8s, Bump to Pass.
This is a Rain or Shine Event – Covered Grandstands Available
EVENT SCHEDULE:
Grandstands open at 12pm
Seahawker Festivities & NASCAR Whelen All-American Series Practice
Racing at 6pm
TICKETS
Get Your Ticket Online Here. Day of the event $20, Cash/Credit accepted at Ticket Gates
SEAHAWKERS CELEBRATION:
Contact Organizers and visit their Facebook Event Page – Click Here
**Events Subject to Change **
Special Appearances by:
Blitz
Sea Gals
The 12th Pony's
Mr & Mrs Seahawk
Big LO
Boot Boogie Babe's (12th Man Line Dancers)
Gary Payton
Downtown Joe Bryant
The Seattle Mist Ladies Professional Football Players
Seahawks Alumni:
Norm Johnson
Joe Tafoya
Nesby Glasgow
Eddie McMillian
Hilary Butler
Alonzo Mitz
John Williams
Randall Morris
Art Kuehn
John McMakin
Kerry Carter
More Seahawkers Event Info Here
Watch this page for updated event info.
Test your driving skills and your car against a fun multi-turn course around Evergreen Speedway at the Evergreen State Fairgrounds in Monroe. It's time trials, meets autocross for bragging rights. This event is open to drivers of all skill levels and any type of vehicle that meets safety and tech requirements.
 Watch for Upcoming Events
9:30AM Gates Open
10AM Tech
10:45AM Required Drivers Meeting & Track Walk
11AM – 6PM Track Hot
$50 Car & Driver
$15 All Access Pit Pass
Grandstands FREERegister – Click Here
Vehicle Classes
Front Wheel Drive
Rear Wheel Drive
All Wheel Drive
Grandstands
People under 16 are limited to grandstand area for safety. – Great view of the whole track.
Park in the main fair parking area off of 179th Ave SE.
Pit Pass  |  $15 per person
Must be at least 16 years old.
Minors must have their parent or guardian sign the Minor waiver The form can be signed in person on the day of the event or contact the Speedway office to get information on how to fill out the waiver prior to the event.  CLICK HERE FOR FORM
Hang out with the drivers and staff track side.
Open-toed footwear is not allowed in the pits.
All drivers, volunteers, and people working on cars or standing in grid must wear full length pants. Shorts are allowed in pits providing you are not participating in one of the above activities.
Pets are not allowed in the pits.
Bring a DOT or SNELL (M, K, or SA certified 95 or newer) helmet and wear pants and shoes to ride shotgun.
Maximum pit speed is 10 mph. If you are going faster than a walking pace you are going too fast!
Tech Inspection Requirements
Safety Helmet: If you bring your own safety helmet, it must be approved by Snell in the current or two most recent ratings (e.g. if Snell 95 is in production then that, 90 and 85 are legal).
Safety Belts: Original safety belts, at a minimum are required. Shoulder belts are not required, if your car did not come with them, but you must have a lap belt. Belts must be firmly attached.
Solidly Mounted Battery: The battery must be held down properly. If it can be moved at all, it will not pass. There are some additional battery requirements which may affect you if you have modified your car. The Tech Inspector will help you out with them.
Legal Tires: In Stock and Street Prepared categories, the tires must have measurable tread, and must be in good condition. Excessive weather checks or visible cord/plies will fail inspection. Tire pressures should be higher than used for the street, usually 45psi-Front/35psi-Rear for a front-wheel-drive car, or 40psi all around for a rear-wheel-drive car.
Brakes: The brake pedal must be firm, with no loss of pressure when held down.
Steering / Suspension: The steering must be tight, with no excessive play. Wheel bearings cannot have excessive play.
Loose Items in Car: All loose items must be removed from the passenger compartment and trunk. This includes the floor-mats. You may remove the spare tire and jack, but you are not required to if they are properly secured.
Fluid Leaks: Excessive fluid leaks will not pass inspection.
Adequate Muffler: Your car must be quieter than 95dbA (RLS) measured 50 feet from the course at a place where you are under full throttle. Due to the possibility of losing sites for noise problems, this rule is strictly enforced. (If your car is quiet enough to avoid attracting Police attention, it will most likely pass the noise requirement)
Throttle: Accelerator pedal must have a return spring and operate freely.
You are not required to have your car registered for street use, but it must pass tech inspection.
Note: Speed Limit is 10mph on county property!
Absolutely no drifting in the Gravel Parking Lot behind the speedway or any surrounding property. If we discover you causing damage we will ban you from future events.
Time Your Ride at Evergreen Speedway |14405 179th Ave SE, Monroe, Washington 98272
Register Your Ride Below
Late Pit Stop Brings Fans to their Feet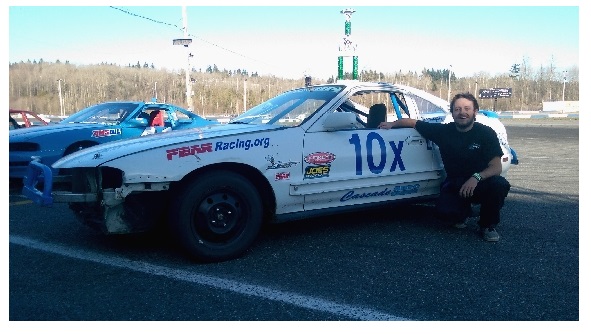 Cody Hoopes of  Redmond, WA.  capitalized on a lucky starting draw for the Interstate Batteries March Madness enduro at Evergreen Speedway and led every lap to claim his first 3 Hour Enduro victory, but not before the drama of a late race pit stop nearly cost him the win. Mark Hubbard closed to within five car lengths, but didn't have quite enough at the end to exploit Hoopes' stop for fuel in the closing minutes of the race. A jubilant Chris Bannon finished third while Cullen Hubbard and Andy Reece rounded out the top five.
Hoopes pulled number one in the pre-race draw for starting position and never looked back as he led every lap. By the ten minute mark the top five had settled in at the front for a long afternoon of racing. Pit stops jumbled the field occasionally, but the leaders remained the same with only Reece falling as far back as 7th after pitting. The racing was exciting as the leaders stayed bumper to bumper through heavy traffic for most of the first half of the grind. As yellows flew and pit stops came into play, Hoopes remained on the point as Cullen Hubbard pitted first, staying on the lead lap. Mark Hubbard pitted a lap later and lost a lap in doing so. Later a flat tire cost Cullen a shot at the win and Mark paced himself, only pushing to get past the leader and back on the lead lap as the two hour mark came and went.
With time winding down everyone wondered if young Hoopes could go the distance on a single tank of fuel. All questions were answered as the race clicked past the five minutes to go mark and Hoopes car sputtered down the back stretch. He dashed into the pits and his crew went to work, stopping momentarily for only a splash of fuel. Hoopes charged down pit road and back into action a mere 5 car lengths ahead of M. Hubbard of Bothell. With a scant two to go, Hubbard desperately tried to close the distance, thrashing his Honda Prelude around every turn trying to reel in Hoopes, but had to settle for second in the end. Mark later admitted he had nothing for Cody. He said, "I should have pushed harder after getting by him [Hoopes] to get my lap back. I couldn't believe it when he came out of the pits right in front of me!"
When reminded of the $500.00 first prize in victory lane, Hoopes showed the concentration and drive of a champion, saying, "I completely forgot about that. That's awesome! I was just going for the win." Next up at Evergreen is an open Drift event March 14th and then the NASCAR season officially kicks off April 4. Get all the details at www.EvergreenSpeedway.com.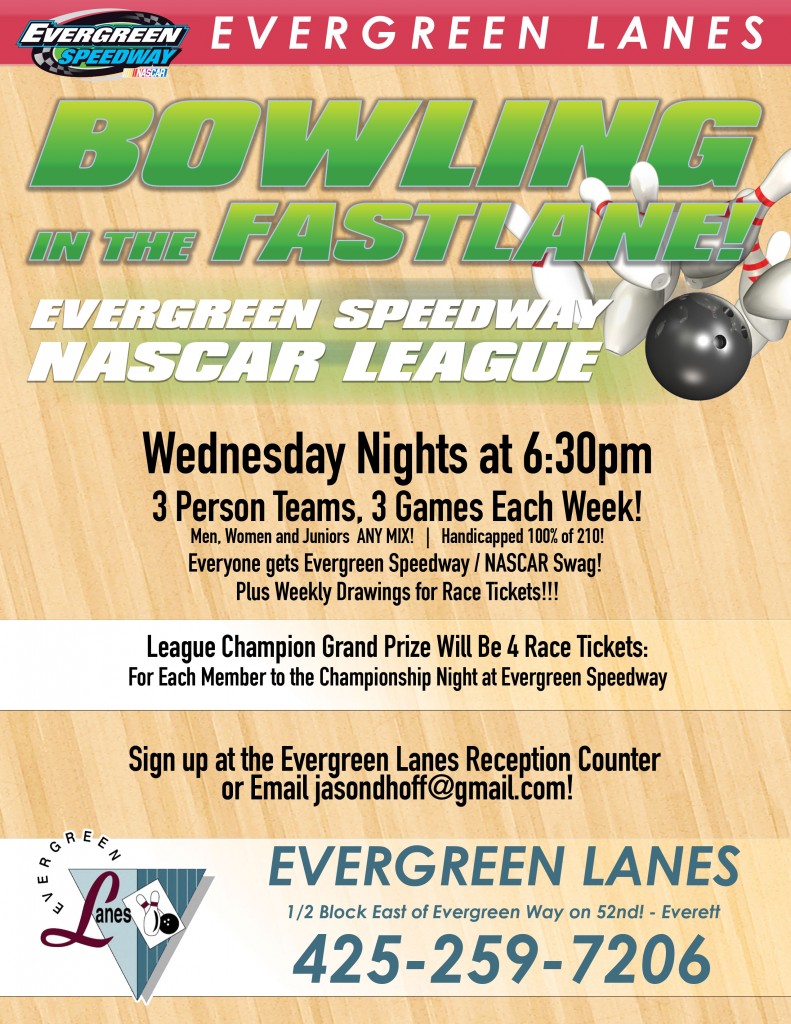 He was crowned the champion at Evergreen Speedway as well as the NASCAR Whelen All-American Series Washington champion on the strength of his Speedway Chevrolet Super Late Model Division title run.
"We were a new team last season," said Holden. "We built a new car and went out there and won half the races. It went beyond anything we imagined the season to be."
Street Stock team looks to build on 2014 success. Chad Fitzpatrick will be back behind the wheel in the the Les Schwab Tires NASCAR Street Stock division entry. The team had numerous podium finishes and took the 3rd place spot in last year's championship hunt. Read more
Congrats to 2014 Evergreen Speedway Summer Showdown winner Cameron Hayley on the announcement that he is joining championship team ThorSport Racing full-time in the NASCAR Camping World Truck Series (NCWTS) in 2015.
From the Headlines:
Hayley Ready For Trucking with ThorSport Racing
Cameron Hayley ready for full-time truck ride
Rookie driver Cameron Hayley takes over No. 13 ThorSport Toyota

Canada's Cameron Hayley joins ThorSport NASCAR Truck Series team

Valentine's Day Special 60% OFF 2015 Driving Experiences All Tracks - Rusty Wallace Racing Experience