Oct 3. Drift & Gymkhana - Schedule and Info | Evergreen Drift
The Washington State Champion would be crowned at Evergreen Speedway in Monroe, Washington on September 19 th. Mike Holden entered the final event of the 2015 Super Late Model season with just a slim lead in the standings over Doni Wanat.
BY TIM MCDOUGALD
Evergreen: Lang Wins The Battle, Holden Wins The War
The quote "I've been to Evergreen Speedway more times than I can remember and I have never seen it rain this hard" was the prevalent theme last Saturday at the Super Speedway of the West, as our incredible summer came to a screeching halt with the most intense storm recorded in Washington state history.
With the Evergreen State Fair in full swing, the winds in full gale and the rain at times in full "dump mode", the valiant race teams and Evergreen Speedway employees braved weather conditions that hadn't been experienced in decades. The highlight race of the night was the Monroe Grocery Outlet Super Stock Figure 8 Shootout scheduled for 75 laps. Season point leader and defending champion Quenton Borreson came into the night with a 15 point advantage over many time F8 champion Doug Delfel. Earlier in the day on Northsound Racings annual live show from the Evergreen State Fair, Borreson mentioned that there are several new cars that were put together just for this race. "Tommy Gapp has put together a complete rocket ship to run the race tonight" Borreson said. "Tommy's been a huge help with my car this season, and now he's put together a car that I'm really worried about. His car is so fast and Tommy is such a good driver that he'll be hard to beat tonight"
Main events started off with a 25 lap feature for the Northwest Pro 4 trucks. 7 trucks took to the 3/8's oval and in the end, Doug Wilkenson picked up his 3rd main event win over Rick Shaver and Cecil Howard rounding out the top 3. This win for Wilkenson was not nearly as thrilling as his last two given the fact that those races were won with last lap turn 4 passes to get the checkered. This race was not that close, but the win was just as sweet for the driver of the #27 truck. Wilkenson is leading in the NWP4TS championship point's battle with a 11 point lead over Mat Greene. The NWP4TS wraps up 2015 as part of the huge Championship Night September 19th here at Evergreen Speedway.
Dylan Biewald had a career night in the Interstate Battery Hornet 25 lap main event. Ran in a moderate rainstorm, Beiwald's Volkswagen Golf was set up for the rain and the "Boot" road course. Dylan mentioned on the Angel of the Winds Victory Stage that he had never finished better than 4th place, so this was special. Dylan held off some talented Hornet drivers with Cullen Hubbard finishing 2nd and Jeff Thomas taking 3rd. The division ran a non-points "Reverse Boot" race which included some Buzz Inn Steakhouse Stinger 8 cars. Brandon Lindberg won that race, with Cody Hoopes in 2nd and Matt Somerville getting 3rd. The "Boot" course starts with the cars taking the green and going into turn 1 of the 1/5th mile flat track. Thye then come out of turn 2 and go down the backstretch towards turn 3, but then make a hard right and head down an access road that connects to turn 3 of the 3/8's oval. They make the hard left onto turn 3 of the 3/8's and go through turn 4 and back to the start/finish line. Draw it out on a piece of paper and you'll see why it's called the "Boot".
The Buzz Inn Steakhouse Stinger 8's ran a 25 lap main.  The battle for the season Championship is going to be as close as you could ask for. Only 5 points separate 1st place driver Lance Ograin and 4th place driver and last season Champion Toby Jenkins! And to make it even better, only one point separates Ograin from 2nd place and Rookie of the Year contender Brandon Lindberg. The race played right into Toby Jenkins plans, as he won the race, with Lindberg finishing 2nd and Ograin finishing 3rd. With 2 races left in the season, this exciting class will certainly be fun to watch.
16 cars started the Monroe Grocery Outlet Super Stock Figure 8 Shootout. Quenton Borreson set fast time in qualifying with a lap of 17.528 on a dry/slick track. Steve "Mr. Excitement" Cox is a several time F8 Champion but this season has devoted his time assisting his son Dawson in the Buzz Inn Steakhouse Figure 8 division. As I took my walk around the pits in the afternoon, I ran into Hornet driver Nick Beecher, whose legs I spotted sticking out from under his race car. I asked him what the issue was, and he explained that his problem was terminal, but he was going to end up helping the #7 Super Stock F8 car. He told me that Steve Cox literally pulled his car out of a thicket of blackberry vines last week, and had spent the week getting it ready to race in the shootout!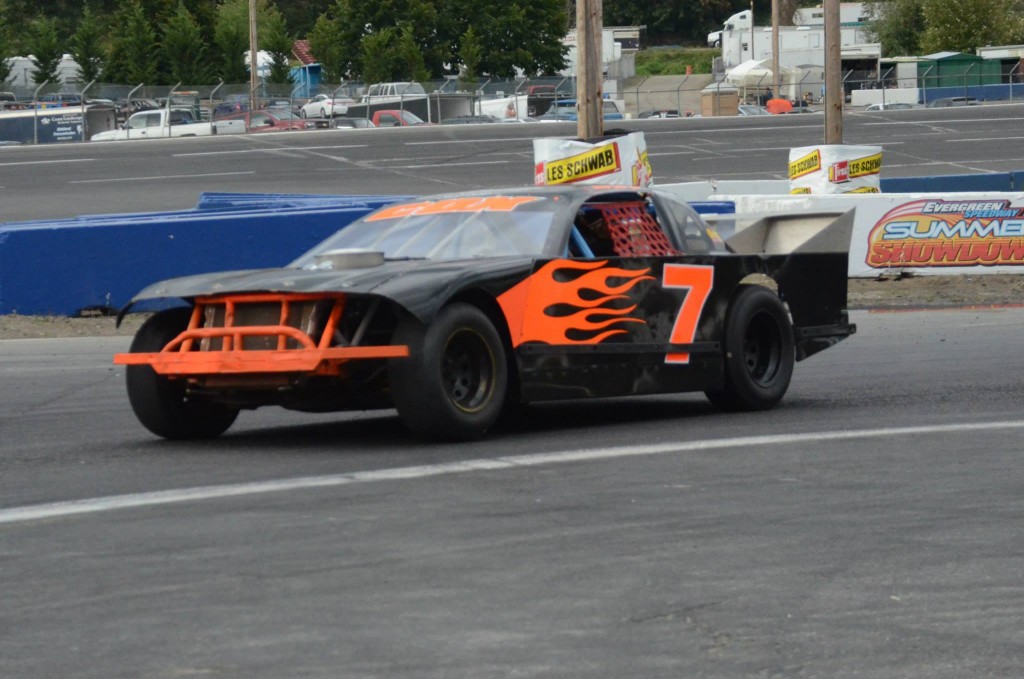 The race started and it was soon apparent that the former agriculture experiment of Mr. Excitement was going to be something to be contended with, as Cox jumped out to an early lead. Five laps in, hard contact between Tommy Gapp and the #81 car ended Gapp's night. And then it started to rain. And rain. And then it REALLY started to rain. On Lap 17, Quenton Borreson felt something going wrong with his car. The field was on a yellow flag caution, and Borreson started to head for the pits. The 77 car of Brandon Florer was coming back onto the track when Quenton was going in, and as these things tend to happen, Florer collided with Borreson ending the point leader's night.
Due to the insane weather conditions, officials decided to shorten to race to 50 laps. From the grandstands, it was like watching a Figure 8 hydroplane race. It was a race that was impossible to describe, let alone what it must have been like to race in! In the end, Steve Cox got the win, with Devin Jenkins in 2nd and Doug Delfel finishing 3rd. While waiting for the drivers to get out of their cars to get their trophies and interviews, all of the top 3 drivers were grinning from ear to ear, clearly enjoying being in a race unlike anyone has seen! Congratulations not only to the drivers, but the fans that stuck it out on a crazy night.
Quenton Borreson posted this on his Facebook page on Sunday: "This has become the moment I have feared my whole life. Multiple fractures from my thumb to the joint, full on splint, see a hand specialist Monday and surgery immediately to follow! I have always thought about what would life be like if I hurt my hand or arm, well now I am about to find out." Obviously, he is out for the season. The "One Armed Bandit" will be back in full force next season!
This weekend will be a busy one as Saturday will be KING 5 TV Night featuring the Speedway Chevrolet Super Late Models, the Les Schwab Street Stocks, the Foster Press Mini Stocks and the Interstate Battery Hornets. Sunday will be the Labor Day Demo Derby, Fireworks show and the return of Mr. Dizzy Mike Buse to his home track of Evergreen Speedway. It's also the last weekend of the Evergreen State Fair, and combo fair/race tickets can be lined up by checking out www.evergreenspeedway.com.
Steve Mortland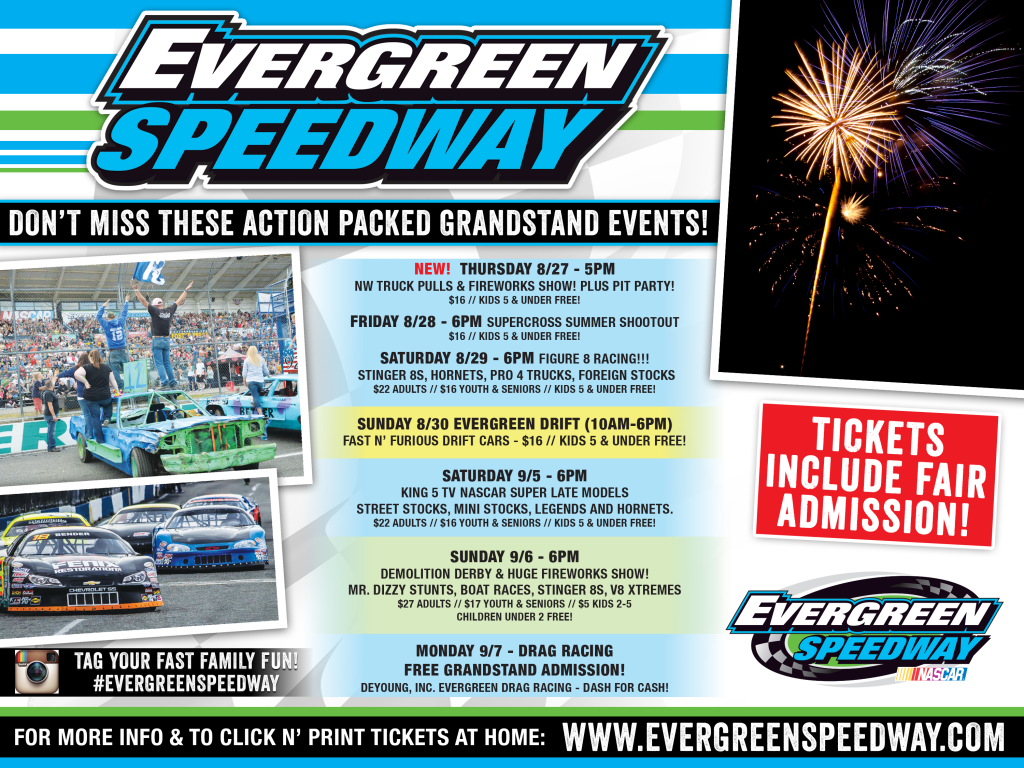 NEW! Thursday 8/27 – 5PM
NW Truck Pulls & Fireworks Show!
PLUS PIT PARTY at 5pm!
Grandstands & Trackside Access Open at 4pm | Fireworks at 9pm
$16 // KIDS 5 & UNDER FREE!
Get Tickets Online Here –> http://goo.gl/o5pK7N
---
Friday 8/28 – 6pm
Supercross Summer Shootout
"Northwest's Stars of Motocross Compete on a high-flying, challenging Supercross Track"
$16 // KIDS 5 & UNDER FREE!
Get Tickets Online Here –> http://goo.gl/tYaODl
---
Saturday 8/29 – 6pm
Figure 8 Racing!!!
Super Stock Figure 8, Stinger 8s, Hornets, Pro 4 Trucks, Foreign Stocks
"Stars and Cars Battle through the World's Most Dangerous Intersection in Wild Figure 8 Racing!"
$22 Adults // $16 Youth & Seniors // KIDS 5 & UNDER FREE!
Get Tickets Online Here –> http://goo.gl/kgPKLz
---
Sunday 8/30 – (10AM-6PM)
Evergreen Drift – ProAm Championship
FAST N' FURIOUS DRIFT CARS – $16 // Kids 5 & Under Free!
"As Seen on Youtube, Facebook & Instagram… ProAm Drift Drivers & Cars Compete for the Top Spot!"
Get Tickets Online Here –> http://goo.gl/GnvaSX
---
Saturday 9/5 – 6PM
KING 5 TV NASCAR Super Late Models
Street Stocks, Mini Stocks, Legends and Hornets
"Cars & Stars of the NASCAR Whelen All-American Series push the limits of speed in their quest for victory!"
$22 Adults // $16 Youth & Seniors // Kids 5 & Under Free!
Get Tickets Online Here –> http://goo.gl/jqhxUf
---
Sunday 9/6 – 6PM
DEMOLITION DERBY & HUGE FIREWORKS SHOW!
Mr. Dizzy Stunts, Boat Races, Stinger 8s, V8 Xtremes
"Smash, Crash.. Light up the Night Sky… Washington's Fair Tradition!"
$27 Adults // $17 Youth & Seniors // $5 Kids 2-5 // Ages Under 2 No Charge.
Get Tickets Online Here –> http://goo.gl/mvjDUP
*** Purchasing in advance, online highly recommended. ***
---
Monday 9/7 – DRAG RACING – FREE GRANDSTAND ADMISSION w/ Fair Ticket!
---
– Ticket Price Includes Fair Admission when bought in Advance.
– Buy Online, at the Fair Entrance Gates, Grandstand Box Office (*** Box Office Fees May Apply ***)
– Grandstands Open 60 Minutes before show times unless noted otherwise.
– Events Held Rain or Shine – Covered Grandstand Seating.
– Re-Entry into Grandstands Allowed with ticket and hand stamp.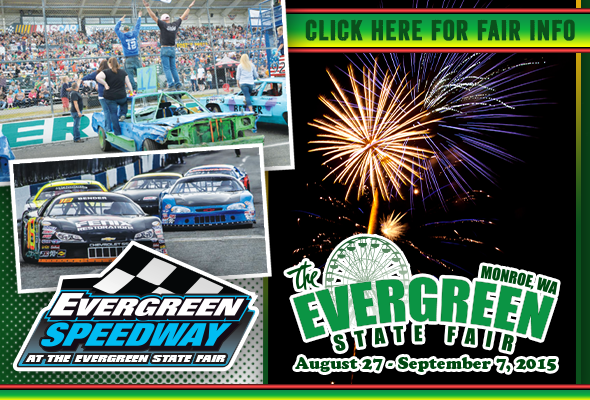 It was Frontier Communications Family Night at Evergreen Speedway this past Saturday, featuring the Evergreen Speedway Street Stock Invitational event, along with the Foster Press Mini Stocks, the Interstate Battery Hornets, Outlaw Figure 8's and the return of the Vintage Modifieds.
Qualifying was held in all the classes. Chris Curtis took the top spot in the Outlaw F8's, Trenton Moriarty in the Mini Stocks, Cullen Hubbard in the Hornets, Mike Clother in the Vintage Mods and Chad Hinkle turned a lap of 17.497 for the pole position in the Street Stock Invitational.
Heat race victories went to Seth Funden in the F8's, Scott Burby in the Mini Stocks, Mark Hubbard in the first Hornet heat with Cullen Hubbard getting the win in the second heat race. The Street Stock's ran two heat races as well, with Chad Hinkle getting the win in the first 8-lap heat, and one of the members of the Top 60 Drivers of Evergreen Speedway Dave Lund picked up the win in the second heat.
The Vintage Modifieds race was interesting due to the fact that long time racer Vern Huson out of Wenatchee was behind the wheel of the #77 car. Huson was a former champion when Spanaway Speedway was in existence. In fact, Vern raced claims to have started racing "Two years before Ron Eaton did!" Vern purchased a car from Bobby Wheeler Jr in July, and ran it for the first time at the Wenatchee Valley Super Oval. In the VMRA heat race, Vern took the checkered flag. Vern mentioned prior to a practice session that this was his first time racing at Evergreen Speedway. When asked what he thought about the track, Vern replied "I like it well enough, it's just that huge tire before you go into turn 1 that throw's me for a loop!"
A moment of silence was observed in opening ceremonies for the tragic loss of 3 firefighters battling the Okanogan Complex Fires in Eastern Washington. The crowd showed it's appreciation when any firefighters, public safety officers and military veterans or active military were asked to remain standing.
Main events rolled off after the heat races. The Outlaw Figure 8 division were up with a 25 lap main. Chris Curtis and John Carlson are in a tight battle for the season championship with only 1 point separating them. Seth Funden started the race on the pole and led the race with Curtis right off his back bumper. The 2 cars pulled away, with Carlson in 3rd place a half lap back. Curtis and Carlson collided in the intersection, with Curtis being unable to continue. Funden wins the race for his second win of the season. Rich Groshong making his first run in an Outlaw car took 2nd with Carlson finishing 3rd.
The Foster Press Mini Stocks took to the track for their 25 lap main. Trenton Moriarty had his season long win streak broken last time out due to a flat tire, so he was looking to get back to the winners stage. Moriarty got the lead early in the race and appeared to be cruising to yet another victory when going into turn 3 about half way through the race a mechanical issue caused the 24 car to spin and ended Trenton's night. Scott Burby finally got his first win of 2015 over a hard charging Michael Fritz and Devin Kessler. "I wish I could have got this win by racing Trenton" Burby said at the Angel of the Winds Victory Stage. "But it's nice to finally get this monkey off my back. Thanks to Central Welding Supply and Squiers Machine for all their help"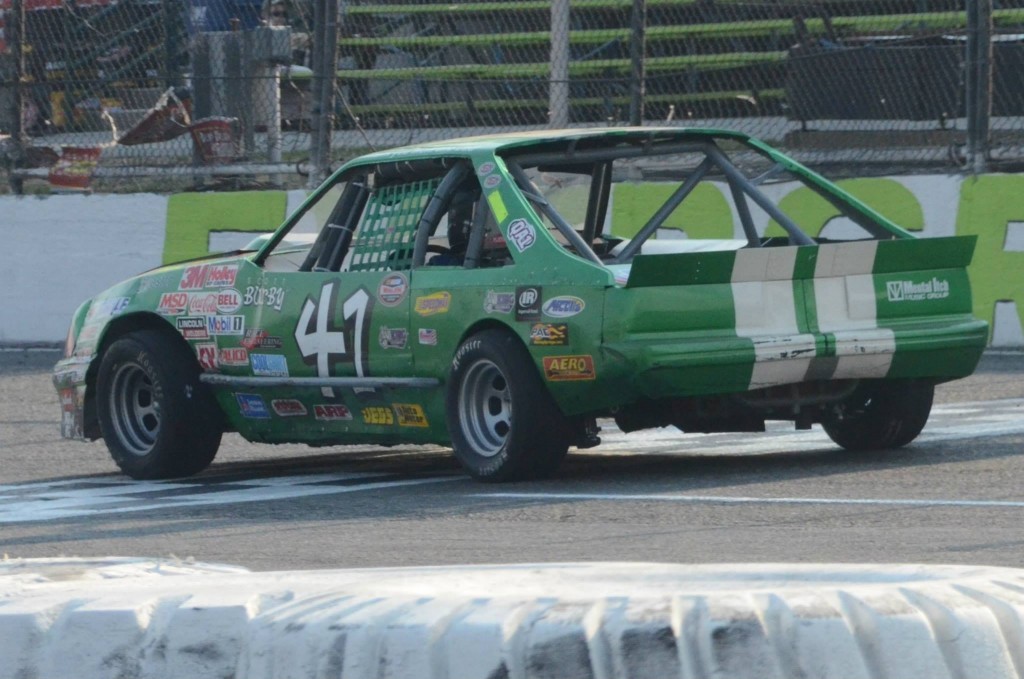 The Interstate Battery Hornets had a thrilling race for 25 laps on the road course. It's so much fun to watch the fast cars start at the back of the pack and work their way to the front. 20 cars started the race. On lap 3, it seemed like 15 of the 20 cars all tried to cram into the short chute part of the course that transitions from the 1/5 mile flat track to turn 3 on the 3/8's! Once that traffic jam was sorted out, last season Champion Scott Hunt took his #22 car to the front in a classic race with Cody Hoopes. Points leader Mike Ridley finished 3rd.
The Vintage Modifieds took to the 3/8's for their 25 lap main event. The race was halted early due to an incident involving John Mustered and Vern Huson in turn 2. Bobby Wheeler got the win with Robert Rux in 2nd and Kyten Jones picking up 3rd.
The final main event of the night was for the Evergreen Speedway Street Stock Invitational.  18 cars started the main, a mix of regular Les Schwab Street Stock drivers and Limited Late Model cars from Eastern Washington. The race was slowed down considerably by numerous cautions, either from incidents on the track or mechanical issues. Speedway Officials reduced the race from its original 75 lap length down to 50 laps due to the curfew. In the end, Marysville's Dave Lund drove his #21 car to the checkered, with Doug Porior taking second and Richard Kerr getting the third place trophy.
The Evergreen State Fair starts on Thursday, August 27th, and as usual, Evergreen Speedway kicks it up several notches! The Northwest Truck Pulls and Fireworks Show kicks off the fair schedule on the 27th. On Friday the 28th, it will be the Super Cross Summer Shootout starting at 6:00 pm. Saturday the 29th will see the Figure 8 track get it's time to shine, as the Monroe Grocery Outlet Super Stock Figure 8's will highlight the evening, along with the Buzz Inn Steakhouse Stinger 8's, Interstate Battery Hornets, the NW Pro 4 Trucks and the return of the FSCRA Super 4's.
Sunday will feature the Evergreen Drift-Pro AM Championship running from 10:00 am to 6:00 pm. Check out the great ticket prices available by getting onto www.evergreenspeedway.com that include both fair and race admission. Getting your tickets online are the best way to reserve your favorite seats for all the great events during the fair.
Steve Mortland
The K&N Pro Series West returned to Evergreen Speedway Saturday night for the series' 54th race at the historic .646-mile. Legends like Bill Elliot, Geoff Bodine, Ken Schrader, Ray Elder, Ron Eaton and Chad Little have won West Series events over the years, and the name David Mayhew can now be added to the list of multi-time winners at this historic track.
Prior to the race, eight different drivers have claimed victory twice at Evergreen. Bill Amick, Dick Bown, Brendan Gaughan, Butch Gilliand, Harry Jefferson, Neil Newberry, Jim Robinson and Bill Sedgwick have crossed the line over the years. Mayhew's victory now puts him in that exclusive roster.
The NAPA Auto Parts 150 presented by Toyota saw 17 cars take the green flag. The #36 car of Jesse Iwuji crashed hard into the turn 1 fence in practice and could not continue. Last season's Sunoco Rookie of the Year winner James Bickford in his Sunrise Ford/Interstate Plastics Ford qualified at the top with a lap of 23.294 seconds (99.837mph) for his second straight Coors Light 21 Means 21 Pole Award. David Mayhew qualified second with a lap of 23.317 (99.738 mph), and Bickfords teammate Ryan Partridge qualified third with his effort of 23.323 second (99.713 mph).
The race started with Bickford and Mayhew on the front row. The field was led to the green flag by a Toyota Tundra decked out in Seattle Seahawk colors. As the field took off into turn one, Dylan Caldwell and Johnny Borneman got together and hit the turn one wall hard effectively ending both their nights. After the track was cleaned up and the race restarted, James Bickford held off furious charges from Mayhew, with Mayhew being threatened by Ryan Partridge. On lap 35, Mayhew found a way around Bickford and cruised his MMI Racing/Ron's Rear Ends/Pour House Chevrolet to the half-way break at lap 75. One driver was very happy to see the caution come out on lap 75! Mooresville NC driver Brandon McReynolds in his NAPA Auto Parts Toyota was visibly slow as the laps wound down prior to the break. His Bill McAnally Racing crew got the problem fixed, all the while down 2 laps on the restart.
With the restart on lap 75, Mayhew held onto the lead and went wire-to wire for the win. Ryan Partridge got a look under Mayhew coming out of turn to early in the second half, but Mayhew headed off the challenge and managed to eventually build up a 2 second lead. As the race wore down, Mayhew went into "conservation mode" to make sure his second trip to victory lane was far different than his first trip last year.
Fans will never forget Mayhew's wild win last season, with his last lap move against Dylan Lupton in between turns 3 and 4 to get around Lupton and take the checkered flag. This year he was on cruise control. "It was a lot less stressful this year!" Mayhew said on the Angel of the Winds Victory Stage. "My crew gave me a flawless car, and when it was in clean air, it was a rocket ship"
Rancho Cucamonga CA driver Ryan Partridge finished second in his Sunrise Ford/Eibach Springs/Lucas Oil Ford. Finishing third in the race was Chris Eggleston in his NAPA Belt and Hose/H20 Fire Protection Toyota. The point's battle for the season championship really tightened up after the NAPA 150 Presented by Toyota. Tied for the lead are Chris Eggleston and Noah Gragson, who came into the night separated by only 2 points. Gragson driving for Jefferson/Pitts racing finished 5th behind teammate Grayson Raz. The next race for the K&N Pro Series West is August 22nd at the Colorado National Speedway.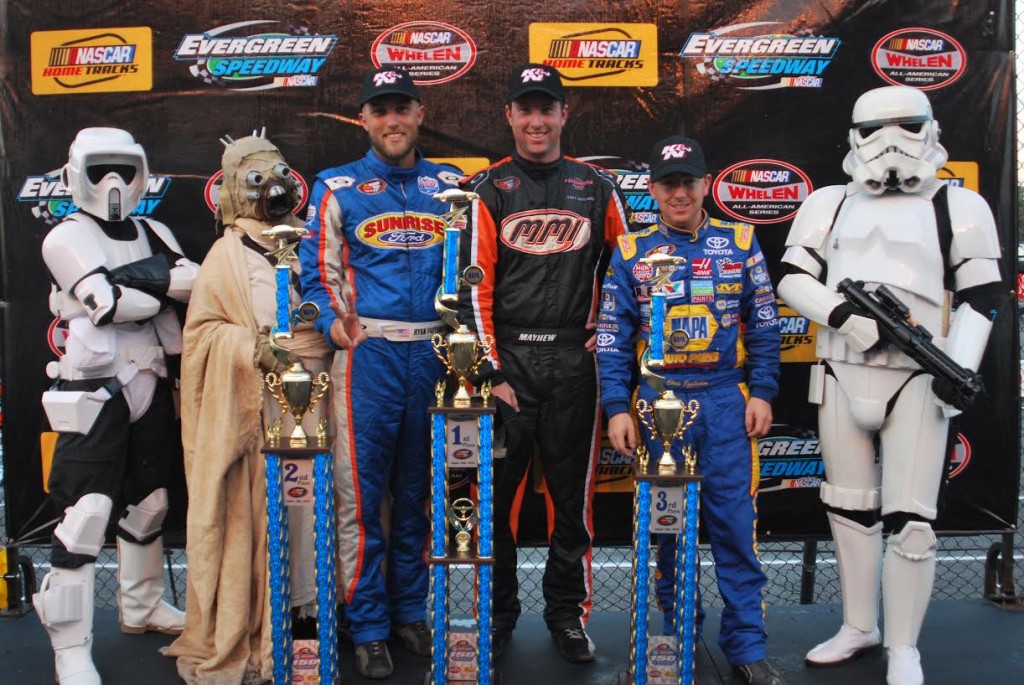 (Photo Courtesy of Tom Vick)
The companion event for the night was the Michael's Bellevue Toyota 100 for the NASCAR Whelen All American Series Super Late Models. 20 cars lined up for the race with top qualifier Blake Williams out of Spokane starting on the front row alongside Garrett Archer. Williams was the only participant in both the K&N Pro Series West event and The Michaels Toyota 100.
This race had everything a Super Late Model fan would want to see. Blake Williams and Garrett Archer battled hard for the lead on the races opening laps until Williams could pull away and keep the 16W Ford out front. What had the crowd fascinated was all that was going on behind Williams, as it was pass after pass for position, especially when the 39 of Pete Harding poked his nose under Williams a couple of times before a thrilling duel between the two with Williams coming out on top. Then Parker Stephens (fresh off his Miller 200 win down at South Sound Speedway the previous Saturday) worked his way into a battle for the lead, finally getting to the top spot.
And then the fun really began. Jason Kooy found a groove to his liking, and his #26 Budweiser/Crown Distributing Chevrolet was hooked up. Kooy got around the leader with about 15 laps to go and held on for his first win ever in a Super Late Model. It was a popular win for not only for Jason, but the entire Kooy family as well. The Kooy's have been long time racers out at Evergreen Speedway with the Western Washington Racing Association. A couple of years ago Jason decided to give Late Models a try, and one could see improvement every time the team took to the track. At the beginning of this season, Jason decided to get some issues with his back taken care of before getting back behind the wheel, and it all came together for him and his team Saturday night. Shelby Thompson finished second with Parker Stephens coming home third.
Coming up this Saturday will be another of the popular Frontier Communications Family Nights. The feature event of the evening will be the Street Stock Nationals with a whopping $1500.00 to the winner. This event will present Evergreen Speedway Les Schwab Street Stocks led by 2015 points leader Chad Fitzpatrick who holds a 6-point lead over defending champion Roger Drake with Jim Foti, Steve Ptacek and Chuck Richard rounding out the top 5. Cars from all over Washington State are expected to compete in this annual event. Also on the card will be the Outlaw Figure 8's, Foster Press Mini Stocks, Interstate Battery Hornets and the West Coast Vintage Modifieds. Tickets can be reserved on www.evergreenspeedway.com or you can call the Speedway office at 360-805-6100.
Don't forget that the Evergreen State Fair is right around the corner. Check out the schedule for this years "Summer Nights with the Stars" series featuring Pat Benetar & Neil Geraldo, The Casting Crowns, Lee Brice, Jerod Niemann and Vince Gill. Tickets are on sale now at www.EvergeenFair.org. As always, Evergreen Speedway lines up outstanding family entertainment during the fair beginning with the Northwest Truck Pulls and a huge opening night Fireworks show on September 27th. Check out www.evergreenspeedway.com or www.EvergreenFair.org for more information.
Steve Mortland