On Saturday June 11th Evergreen Speedway will hold our annual racers reunion. It is KLB Construction Night presented by NAPA Auto Parts. The night will feature the Speedway Chevrolet NASCAR Whelen All American Series Super Late Models, Les Schwab Street Stocks, Foster Press Mini Stocks, Buzz Inn Steakhouse Stinger 8's, Outlaw Figure 8's and Interstate Battery Hornets.
All former racers/promoters/employees are invited and will receive complimentary admission for themselves plus one. To obtain the free admission click Here and fill out the form. Tickets will be waiting for you at will call the night of June 11th.
Not very many race tracks in North America have been around as long as Evergreen Speedway and we hope as many of you as can come celebrate with us. We will be introducing the past racers as the night progresses.
For more information go to www.evergreenspeedway.com or call 360-805-6100.
Register Here for Free Passes for former Racers/Promoters/Employees
A Galloway Win can last a lifetime!
Monroe, WA-
When the field lines up for the running of the sixth annual Mark Galloway 150 Shootout Presented by Monroe Grocery Outlet and Shoreline Community College, fans will witness something of a "Class Reunion" of former and current Speedway Chevrolet Super Late Model Champions, several NASCAR Northwest Tour Champions, and a Northwest Super Late Model Series Champion.
This coming Saturday race is notable for those reasons above, but most importantly it honors the memory of a young man taken away from not only his family, but many friends, peers and racers who knew beyond a shadow of a doubt how special and meaningful his short time on this planet was.
The class of drivers who are competing in this marquee event include 4-time NASCAR Track Champion Naima Lang for example. He's taken the past few years off from racing the full season, understandably wanting to spend more time with his wife Jill and their growing sons. The constant has been up until this season that the dust would be blown off the bright blue Chevrolet when it came time to gear up for the Galloway. Naima was one racer who really knew Mark Galloway. Naima knew how dedicated he was to not only his chosen field of automotive technology, but also of Marks commitment to making Evergreen Speedway a better place to race.  When pressed, Naima will refer back to his winning of the inaugural Mark Galloway tribute event as the highlight of his career. That's saying something given that in addition to his numerous Championships in both the Street Stock and Super Late Model divisions, he's also achieved 2 wins at the Yakima Speedway Fall Classic, which anyone will tell you is no walk in the park.
Another former 2-time NASCAR Super Late Model Champion Shane Harding will be amped up for this race.  His stats are impressive with his Evergreen Championships and a Fall Classic win. Shane will tell you to your face that his win in the Galloway is as important as any race he's ever run. Both Jason Fraser and Kelly Mann have crossed under the checkered flag on the first big-track race of the year with Galloway victories, and those two cats have won some big time races over the years. The youngest winner of the Galloway, Tyler Tanner has spent the better part of the past 2 seasons racing in high profile Super Late Model races along with spending much of last year driving in the NASCAR Camping World Truck Series. Tyler is well aware of the importance of his 2014 Galloway win.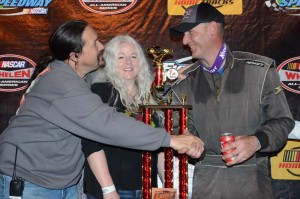 All told, fans of Evergreen Speedway will get to witness Lang, Harding and Tanner in the starting line-up for this year's Galloway 150 Shootout. Former Track Champion (2013) Daniel Moore will be driving his Monroe Grocery Outlet sponsored car. Two time and defending Champion Mike Holden will be there as well. Officials are looking forward to welcoming close to 40 of the best that the Northwest has to offer. Names like Ron Eaton, Pete Harding, Tom Barrow, Mike Longton will line up with a field of young drivers with names like Trenton Moriarty, Owen and Taylor Riddle, Parker Stephens, Jay Sauls, Gracin Raz, Jeff Knight, Doni Wanat, Molly Helmuth, Jason Kooy, Shane Sawin, Andy Sole, Tyler Baker  and many more.
At the end of the night, long after the victory lane celebrations have wound down, the interviews concluded and the crew will be loading up all it takes to bring a car to victory lane, one driver will be all by him or herself. And the reality of what they just accomplished will invariably set in. They will know that not only did they get a win over the best of the best, but they also won a race that honors the best of the best. Not a bad night's work.
A huge part of the Galloway race will be the support classes that will take to the asphalt. The Columbia River Legends bring their cars for a weekend INEX Regional qualifier event. These 5/8's scale full on race cars never fail to light up the crowd. Also scheduled will be the return of the WESCO Sprint Cars along with points races for both the Les Schwab Street Stocks and Foster Press Mini Stocks. Gates open at3pm with every racing action at 4pm,
Tickets for this amazing day and night of racing can be found at  www.evergreenspeedway.com or by calling the Speedway Office at 360-805-6100
There will only be Mini and Street stock tire sales Thursday. Late Model Tires will be sold Friday and Saturday. Races tires will only be sold on Saturday.
The Thunder Rolls into Evergreen Speedway
Monroe, WA- There isn't a NASCAR Hometrack in the country that doesn't provide a "marquee" event in their yearly calendar. These are events that are designed to provide fans an event to salivate over, no matter what the feature is. Fans of Evergreen Speedway are fortunate in the fact that Highroad Promotions has events like the upcoming Galloway 150 Shootout, presented by The Monroe Grocery Outlet and Shoreline Community College. We also have the Annual Summer Showdown, Formula Drift and new to Evergreen this year, the Red Bull Global Rally Cross.
One such "marquee" event happened this past Saturday night as the Rolling Thunder Big Rigs made their annual appearance at Evergreen Speedway, with 10 full race, smoke belching, loud, obnoxious, tire boiling and hard racing Peterbilts, Macks, International Harvester and even a Volvo semi-trucks lighting up the crowd with their brand of entertainment. And entertainment the provided!
Qualifying was led by Dustin Smith, who turned a lap of 23.011/58.668 mph on a slightly damp 3/8's mile oval. Brian Wilson won the 4-lap trophy dash held after opening ceremonies, with 8-lap heat race wins by Scott Zahn and Dave Barr. One note of interest was the driver of the #96 truck Jay Steiger. When interviewed during the Fan Fest, Steiger mentioned "This is my first time racing ANYTHING." When asked to follow up on that statement, Jay said "I've never raced anything in my life. This will be the first time I've tried something like this" Given that this is a "Family Friendly" race recap, I'll keep the superlatives to a minimum, but the man certainly got my respect. And I'm reasonably certain that he gained a ton of respect from not only the fans, but from his fellow racers as well. Jay led a lot of his heat race and represented the Rolling Thunder Big Rigs in an impressive fashion.
On to the 25-lap main event. With turbos spinning and air horns blasting, the field took the green and it was a 4- truck battle for the entire race. Several time fans witnessed 3-wide racing going into turn 1, and trucks sliding all the way through turns 1 and 2 with smoke billowing off all 4 rear tires! Fast qualifier Dustin Smith picked up the win, with Dave Barr in 2nd and Tom Rayton standing tall on the Angel of the Winds Winners Stage in 3rd. All in all, an amazing performance by all the drivers and teams in the series. If you need more information on the Rolling Thunder Big Rigs, check out www.gibbonsracing.com.
In other racing action, the Outlaw Figure 8's fielded an impressive 10 cars for their main event. Nick Gunderson set fast time in afternoon qualifying. Heat race wins went to Points leader Seth Funden and the returning Jake Repin. In the 30-lap main event, The Cowboy John Carlson proved why he is so good on a damp track with his first win of the season. Nick Funderson gave it everything he had to get by The Cowboy, but had to settle for 2nd place and Chris Curtis finished 3rd.
The Interstate Battery Hornets provided some history to Evergreen Speedway with 72 years young Pete Jensen holding off the furious charge of points leader and 2nd year driver Dawson Cox. Jensen has raced at Evergreen Speedway in the past 6 decades, and decided to run the full season to "get one more win under my belt". Jensen mention in his post-race interview with Ben Greaby that "I'm having more fun racing this year that I've ever had in all the years that I've been competing hear at Evergreen. To be able to hold of a talent like Dawson Cox, and I've raced against his dad a time or two over the years, is so gratifying" Jensen also led the 18 cars that qualified earlier in the day, and heat race wins went to Michael Jensen (no relation), Chad Roberson and Justin Brave.
Interstate Battery Hornets took to the track for their main event. Congratulations to Hailey Belew for her exciting win, with Dodge Smirz finishing 2nd and Cameron "Call me Bubba" Iverson getting 3rd. Hailey mentioned in her post-race interview that a young fan of hers told her that she was going to win her race, and Hailey promised her that it would happen!  This is a new and extremely fun division for 2016 at Evergeen Speedway.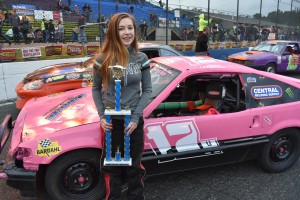 The Northwest Pro 4 Trucks attacked the 3/8's oval, and in the 10 truck 30-lap main event, it was the 2015 Season Champion Doug Wilkenson taking the checkered flag ahead of Aaron Green and the ailing truck of Ellensburg's Cecil Howard in 3rd.
Coming up this weekend is the big Memorial Day Weekend at Evergreen Speedway. Friday will see practice for all the classes that will be racing as part of the Galloway 150 Shootout. In addition to the Les Schwab Street Stocks, this weekend will mark the return of the Columbia River Legends to one of their collectively favorite tracks to run at. They will run both Saturday and Sunday on the 3/8's oval. This is an important event for the Legends as it is an INEX Regional Event towards the National Points Championship. The WESCO Sprints make the first of their 2 race dates at Evergreen on Saturday, and the Foster Press Mini Stocks led by the undefeated Nat Barber in 2016 will be racing as well.
The main event on Saturday will be the Galloway 150 Shootout Presented by Monroe Grocery Outlet and Shoreline Community College.Sunday will feature the Sean Peters Memorial Truck Demo Derby Presented by Quality Sleep Mattress. All of the Figure 8 classes will be running along with the Northwest Vintage Modifieds and Interstate Battery Hornets. Fans will get a kick out of the School Bus Races and the night will end with a majestic fireworks show that Evergreen Speedway is known for.    Tickets are available online at www.evergreenspeedway.com, or call the Speedway office at 360-805-6100.
Several new winners on a rainy Saturday night!
Monroe, WA- Even though the Pacific Northwest basked in the glory of temperatures in the 70's for most of the week, Saturday brought weather to Evergreen Speedway on Military Appreciation Night presented by Frontier Communications that forced the cancellation of the Super Late Model division and left the remainder of the classes scheduled to run rain or shine to alter their set-ups to run on a rain soaked 3/8's oval and figure 8 track.
Nat Barber continued his dominance in the Foster Press Mini Stock Division with a hard fought win over Zach Bristol and Cody Koroshes. Bristol is driving an Acura that competed the last two seasons in the Hornet division, and the PMS Power team has made huge strides this season to compete in this division. Barber is undefeated this year driving his car honoring the memory of Bobby DeYoung.
All 3 Figure 8 classes ran on this wet night. In the Buzz Inn Steakhouse Stinger 8's, Matt Somerville threw the kitchen sink at his car between the heat races and the main event to score the win, with Cody Hoopes taking a car that needed a ton of work from the last time it raced to a well-deserved 2nd place and Bryce Kolar getting his first podium finish in 2016 with his 3rd place finish.
The Monroe Grocery Outlet Super Stock Figure 8 class welcomed a first time winner to the stage, as Brandon Florer drove the 77 car to the checkered flag. Brandon's car wouldn't even start when his team started off the day, but with a lot of help, they got it running and running well! Quenton Borreson finished 2nd with Brian Little coming in 3rd.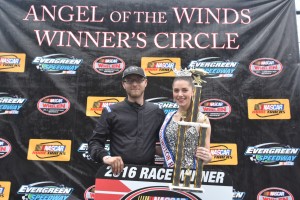 The Outlaw Figure 8's also saw a first time winner in Chris Harrison. Harrison held off a charge by the 90-Minutes of FEAR winner Nick Gunderson to get the win with John Carlson finishing 3rd.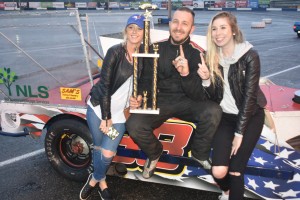 Chad Fitzpatrick picked up his 2nd win in the Les Schwab Tires Street Stock division. Chad obtained his first "rain win" and continues to lead in Championship Points. Darrel Lutovsky took 2nd and Jim Foti returned to the podium to finish 3rd.
The Rolling Thunder Big Rigs make their 2016 appearance at Evergreen Speedway on May 21st. Presented by Reardon Dodge, the Big Rigs never fail to impress the crowd. Also scheduled are the Northwest Pro 4 Trucks, the Interstate Battery Hornets, Outlaw Figure 8's and the V-8 Extremes. The Speedway celebrates Memorial Day Weekend with the running of the Galloway 150 Presented By Monroe Grocery Outlet on May 28th. This will be the first appearance on the 5/8's oval for the Speedway Chevrolet Super Late Models, and fans can expect entries from Washington, Oregon, Montana and British Columbia. The 29th will be featuring the annual Sean Peters Truck Demo Derby and a HUGE fireworks show. Tickets for all events at Evergreen Speedway can be reserved online at www.evergreenspeedway.com
http://www.mylaps.com/en/events/1265503