Evergreen Speedway's crashing, smashing fun is back at the Washington State Spring Fair! It's Motorsport Mayhem all weekend long at the Washington State Spring Fair April 17-19, 2015. Tricked out monster trucks and smashing cars collide for an action-packed event you won't want to miss!
Tickets now on sale – Purchase online by April 16 and save up to $5 per ticket.
More Information
View SLAMFEST Participant Info & Registration – CLICK HERE
Demolition Derby Rules – CLICK HERE
See all the Motorsports Mayhem! – Save on Tickets, CLICK HERE!
Saturday April 11th was Scout Night presented by Coastal Community Bank at a soggy and cold
Evergreen Speedway, with a track surface that presented drivers with a ton of challenges.
Five classes took to the track, with the Buzz Inn Steakhouse Stinger 8's starting off the main
events. Last season's champion Toby Jenkins got the win as the rain poured down with Matt
Sommerville in second place and the 10X of Cody Hoopes finishing third.
The Foster Press Mini Stocks saw their second race of the season racing in conditions so totally
opposite of the season opener. The only thing consistent about Saturday's race was that the
winner was last year's champion and Rookie of the Year Trenton Moriarty with a wire to wire
wind for his second win in 2015. Trenton had his car set up for the rainy track conditions and left
the field in his wake. Matt Stone placed second with Brad Thomas in third.
In the Interstate Batteries Hornet main, the 23 car of Kahl Cheth led the first ten laps on the 6
turn road course. Mark Hubbard then took over the lead and built up a quick two second lead
before a caution on lap 12 changed the race. The 22 of Scott Hunt dove under Hubbard in turn
two and led for a short time until a caution for a three car blocking incident in the short chute
helped change the outcome. The 41 of Hubbard took back the lead on the restart and ran away to
the win, with his son Cullen Hubbard in second and Matt Greene finishing third.
The track conditions improved somewhat for the Les Schwab Tire Street Stocks main event. Jim
Foti pulled the wire to wire job for the win, surviving cautions on lap twelve when the 12 of
Chad Fitzpatrick and 44 of Mike Marthaller got together in turn 2. The field restarted, and by lap
20, Foti was out to a six second lead, eventually winning the race with Steve Ptacek in second
and a well-deserved third place finish for Randy Bueing, returning to racing for the first time in
almost twenty years.
Last up for the night was the Outlaw Figure 8's. These high horsepower machines were beyond
twitchy on the slick track. John Carlson led the first seventeen laps of the twenty five lap feature
until he tried to pass Seth Funden in turn 3 and got tangled up allowing Chris Curtis to slip by
and take the lead for his first place win of the season. Carlson finished second and returning
champion Mike Steltz finished third.
Next up at the Super Speedway of the West will be one of the Frontier Communications Family
Nights, featuring the Speedway Chevrolet Super Late Models with a 75 lap Main Event on the
3/8's, the Monroe Grocery Outlet Super Stock Figure 8's, Buzz Inn Steakhouse Stinger 8's,
Interstate Battery Hornets and the 2015 debut of the Northwest Pro 4 Trucks. Special Frontier
Family Night Prices are $10.00 for ALL ADULTS with Kids 10 and Under in FREE! This is
without a Doubt, one of the BEST values to see a Super Late Model race in the NW!
Tickets for this and all events can be purchased online at www.evergreenspeedway.com
Steve Mortland
It was a totally packed house at Evergreen Speedway Saturday night
to welcome the start of the 2015 season, as the Seahawkers of Snohomish County celebrated their favorite teams back to back NFC Championships with a day and night chock full of activities for fans of all ages.
Action on the race track was hot and heavy as 4 classes kicked off their respective seasons. First up was the Buzz Inn Steakhouse Stinger 8's thrilling the crowd with a 30 lap main event. The race was slowed up on lap 8 with a 3 car hit in the intersection that retired 2 of the 3 involved. Brandon Lindberg led the field to the checkered flag, followed by Matt Somerville and Lance Ograin driving his #74 car to a third place finish.
The newly named Grocery Outlet of Monroe Super Stock Figure 8 division attacking the figure 8 track with a vengeance. 2014 champion Quentin Borreson led the majority of the face until a flat right front tire put him put him of contention lap 25 allowing veteran figure 8 racer Steve Peters to assume the lead and take the main event win. Eric Allison finished with a well-earned 2nd place. Doug Delfel started his 41st year of Figure 8 racing with a third place position.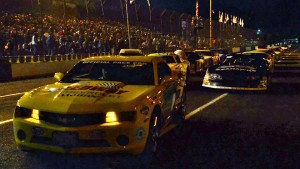 The Foster Press NASCAR Mini Stocks were up next with their 30 lap main, Darrington's Bobby DeYoung started at the back of the field and absolutely carved his way through the field, until colliding with Brad Thomas coming out of turn 4 on lap 12. DeYoung couldn't recover from the spin, allowing early leader Scott Burby to lengthen his lead. Burby's car went away on him, allowing last year's champion Trenton Moriarty to run away from the field for an over 4 second victory over Burby with Travis Woodward finishing in third place.
The Speedway Chevrolet Super Late Models put 18 cars on the grid for their 75 lap feature. The 4 car invert put 7 time Evergreen Speedway Champion Tom Moriarty in the appropriately numbered and Seahawk themed 12 car on the pole. Needless to say with a packed grandstand full of 12 fans, it was a perfect event for Moriarty as he drove the 12 car to a wire to wire win. Moriarty was threatened by Tyler Tanner is his familiar #65 as the laps wound down, but managed to take advantage of picture perfect restarts to get the win. Tanner finished 2nd with Cle Elum's Andy Sole driving his 20 car to a third place finish.
After the races were done, Mr. Dizzy Mike Buse gave the fans a thrill with climbing into a perfectly good mini-van and promptly had his crew blow the thing to smithereens, with Mr. Dizzy walking through the flame to a wildly cheering crowd. Them a stunning fireworks display with a great soundtrack and Seahawk radio calls ended the night for a throng of Seattle Seahawk fans.
Next up at The Super Speedway of the West will be the season debut of the fan favorite Outlaw Figure 8s, along with the Foster Press Mini Stocks, the Les Schwab Tire Street Stocks, Interstate Battery Hornets and Buzz Inn Steakhouse Stinger 8's. Tickets for all events can be purchased online at www.evergreenspeedway.com or by calling the speedway office at 360-85-6100.
 http://www.mylaps.com/en/events/1119797
Steve Mortland
First we will have a youth pit pass available starting this week only available at the backgate. The youth pit pass will be $20 and will not require a NASCAR License. It will be for anyone 13 years and younger. Every youth pit pass must have a parental consent form signed in person, or have a notarized copy. This program was investigated over the off season and is aligned with other NASCAR tracks around the country.
Secondly we will be introducing a Fan/Sponsor pit pass that will be available after 5pm for $30. This has come from many of our drivers asking us for a way to get sponsors and friends to enter the pits without having a NASCAR License for a lower price. This pit pass will have the restriction that anyone wearing this pit pass is not aloud to work on a car.
Both of these programs are on a trial basis and can be revoked at any time if the Speedway Staff feels there are safety issues or the programs are being abused. Please help us keep the pits safe and now family friendly!
Car show from 12:12 on
Pony rides beginning around 1:30pm
Easter Egg Hunt at 3:30
Car show from noon on
50/50 from 2-8:30
Kids games from 1:30 to 4:30
Music Times
START TIME 12:20
12:20-12:50 The Ride (classic rock)
12:50-1:05 band change
1:05-1:35 Goo Pah Band (popmusic)
1:35-1:50 band change
1:50-2:35 Grove Surfers (blues to top 40)
2:40-2:50 MC JAMZ & MYTHIKAL(quick rap)
2:50-3:35 Lost Dogma (country music)
3:40-3:50 Eric, Megan (Seahawks rap song)
3:50-3:55 VellVett (Seahawks rap song)
3:55-4:40 Jones & Fischer (top country band)
4:40-4:45 Sno Dub (Seahawks theme song)
Driver FanFest @ 5pm on the Track
Opening Ceremonies start @ 5:55
Marine Color Guard
INVOCATION
ANTHEM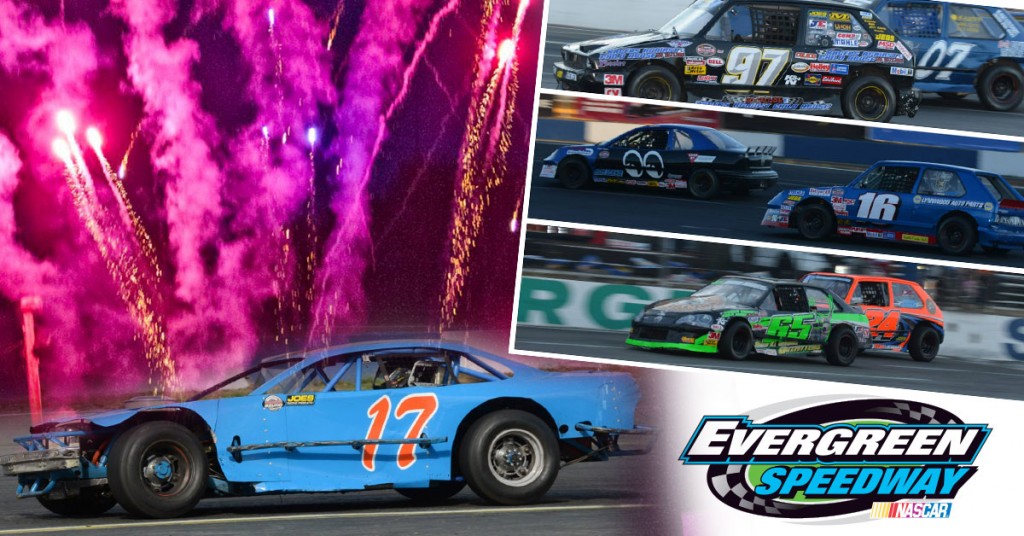 Get your tickets Today! $20 for Adults 16+, Kids 6-15 $10, Under 6 FREE!
FEATURING:
61st Annual Season Opener — Fireworks, Seahawkers Celebration, Mr. Dizzy, NASCAR Super Late Models, Super Stock Figure 8, NASCAR Mini Stocks, Stinger 8s, Bump to Pass.
This is a Rain or Shine Event – Covered Grandstands Available
EVENT SCHEDULE:
Grandstands open at 12pm
Seahawker Festivities & NASCAR Whelen All-American Series Practice
Racing at 6pm
TICKETS
Get Your Ticket Online Here. Day of the event $20, Cash/Credit accepted at Ticket Gates
SEAHAWKERS CELEBRATION:
Contact Organizers and visit their Facebook Event Page – Click Here
**Events Subject to Change **
Special Appearances by:
Blitz
Sea Gals
The 12th Pony's
Mr & Mrs Seahawk
Big LO
Boot Boogie Babe's (12th Man Line Dancers)
Gary Payton
Downtown Joe Bryant
The Seattle Mist Ladies Professional Football Players
Seahawks Alumni:
Norm Johnson
Joe Tafoya
Nesby Glasgow
Eddie McMillian
Hilary Butler
Alonzo Mitz
John Williams
Randall Morris
Art Kuehn
John McMakin
Kerry Carter
More Seahawkers Event Info Here
Watch this page for updated event info.
Test your driving skills and your car against a fun multi-turn course around Evergreen Speedway at the Evergreen State Fairgrounds in Monroe. It's time trials, meets autocross for bragging rights. This event is open to drivers of all skill levels and any type of vehicle that meets safety and tech requirements.
 Watch for Upcoming Events
9:30AM Gates Open
10AM Tech
10:45AM Required Drivers Meeting & Track Walk
11AM – 6PM Track Hot
$50 Car & Driver
$15 All Access Pit Pass
Grandstands FREERegister – Click Here
Vehicle Classes
Front Wheel Drive
Rear Wheel Drive
All Wheel Drive
Grandstands
People under 16 are limited to grandstand area for safety. – Great view of the whole track.
Park in the main fair parking area off of 179th Ave SE.
Pit Pass  |  $15 per person
Must be at least 16 years old.
Minors must have their parent or guardian sign the Minor waiver The form can be signed in person on the day of the event or contact the Speedway office to get information on how to fill out the waiver prior to the event.  CLICK HERE FOR FORM
Hang out with the drivers and staff track side.
Open-toed footwear is not allowed in the pits.
All drivers, volunteers, and people working on cars or standing in grid must wear full length pants. Shorts are allowed in pits providing you are not participating in one of the above activities.
Pets are not allowed in the pits.
Bring a DOT or SNELL (M, K, or SA certified 95 or newer) helmet and wear pants and shoes to ride shotgun.
Maximum pit speed is 10 mph. If you are going faster than a walking pace you are going too fast!
Tech Inspection Requirements
Safety Helmet: If you bring your own safety helmet, it must be approved by Snell in the current or two most recent ratings (e.g. if Snell 95 is in production then that, 90 and 85 are legal).
Safety Belts: Original safety belts, at a minimum are required. Shoulder belts are not required, if your car did not come with them, but you must have a lap belt. Belts must be firmly attached.
Solidly Mounted Battery: The battery must be held down properly. If it can be moved at all, it will not pass. There are some additional battery requirements which may affect you if you have modified your car. The Tech Inspector will help you out with them.
Legal Tires: In Stock and Street Prepared categories, the tires must have measurable tread, and must be in good condition. Excessive weather checks or visible cord/plies will fail inspection. Tire pressures should be higher than used for the street, usually 45psi-Front/35psi-Rear for a front-wheel-drive car, or 40psi all around for a rear-wheel-drive car.
Brakes: The brake pedal must be firm, with no loss of pressure when held down.
Steering / Suspension: The steering must be tight, with no excessive play. Wheel bearings cannot have excessive play.
Loose Items in Car: All loose items must be removed from the passenger compartment and trunk. This includes the floor-mats. You may remove the spare tire and jack, but you are not required to if they are properly secured.
Fluid Leaks: Excessive fluid leaks will not pass inspection.
Adequate Muffler: Your car must be quieter than 95dbA (RLS) measured 50 feet from the course at a place where you are under full throttle. Due to the possibility of losing sites for noise problems, this rule is strictly enforced. (If your car is quiet enough to avoid attracting Police attention, it will most likely pass the noise requirement)
Throttle: Accelerator pedal must have a return spring and operate freely.
You are not required to have your car registered for street use, but it must pass tech inspection.
Note: Speed Limit is 10mph on county property!
Absolutely no drifting in the Gravel Parking Lot behind the speedway or any surrounding property. If we discover you causing damage we will ban you from future events.
Time Your Ride at Evergreen Speedway |14405 179th Ave SE, Monroe, Washington 98272
Register Your Ride Below