http://www.mylaps.com/en/events/1284913
What a crazy night!
Monroe WA – It was Driver Reunion Night presented by KLB Construction this past Saturday at Evergreen Speedway. With many drivers, crew members and past track employees in attendance, along with an energetic crowd and threatening skies, six classes of competitors made for a busy atmosphere.
FOXSPORTS 1380-KRKO Radio was also involved in the night's proceedings as the official Radio Station of Evergreen Speedway provided listeners with passes to the track. Qualifying took place early in the afternoon, with the Speedway Chevrolet Super Late Models not participating due to the damp track conditions. The Interstate Battery Hornets used their 3-lap European style qualifying session. Pete Jensen bested the 24 cars that went out in groups of 6 to set the fast time. Foster Press Mini Stock qualifying was led by Cody Koroshes. "Cowboy" John Carlson set the fast time in the Outlaw Figure 8 class and Cody Hoopes topped the 11 car Buzz Inn Steakhouse field. The Les Schwab Street Stocks determine their line-ups based on points.
The main events started with the Interstate Batteries Hornets taking to the road course in a 20 lap feature. Michael Jensen continued his magical month of June with his second consecutive main event win. Jaimie Corbett took second with points leader Dawson Cox finishing third.
The Foster Press Mini Stocks took to the 3/8's oval with points leader Nat Barber starting mid-pack. A lot of beating and banging occurred in this 25-lap main. Race winner Michael Fritz held off a charge late in the race from Barber to finally put an end to "The Streak". Barber fiished second with a very well running Devin Kessler taking third.
The Interstate Batteries Youth Hornets returned to the 1/5th mile flat track with a 15 lap main event. In the end, it was Cameron Iverson winning the race, with Dodge Smirz in second and Dario Retych continuing to get on the podium with his third place finish.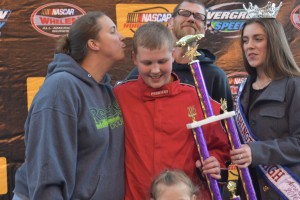 The Speedway Chevrolet Super Late Models were already a race behind with the rained out Galloway 150 Shootout. Teams had hoped to use that valuable practice, qualifying and competing for 150 laps on the 5/8's oval to: A) claim bragging rights to a nice winner's purse and B) gain seat time to prepare for the 5th Annual Summer Showdown coming up on June 24th & 25th. While the teams got some 5/8's practice time for a while on the Friday preceding the Galloway, they'll have to alter their plans in order to run the Showdown. With the division scheduled to compete on the 3/8's this past Saturday, teams were looking forward to actually racing a 75 lap main prior to the weekend off before the Showdown.
Track conditions didn't allow practice or qualifying attempts for the SLM cars. With a break in the weather forecast for mid-way through the main events, officials decided to at least attempt to run a main event. Teams lined up for a single file start and with Tyler Tanner led the pack to the green flag. Only eight laps in, the rain started back up and the race was red-flagged with the hope that it would be a short squall moving through the area. Cars were parked on the backstretch of the 3/8's and the remaining divisions lined up for their mains.
The Outlaw Figure 8 class presented 9 cars with John Carlson on the pole. Points leader Chris Harrison led the early part of the race until his car visibly slowed.  The race developed into a 2-car battle between Nick Gunderson and Chris Curtis. Gunderson led Curtis as the laps wound down and upon the white flag being displayed, the two tangled with Curtis trying to get inside Gunderson at the line. Seth Funden took advantage of the incident to get his first win of the season and take over the points lead. Gunderson recovered to finish second and Zack Larson finished third.
The Les Schwab Street Stocks were broug ht out to attempt to help dry the 3/8's so the Super Late Models could finish their main. 13 cars lined up for the 30-lap main event with Steve Ptacek finally getting the win that has eluded him this season. Ptacek ran strong and hit his marks with precision finishing ahead of Steve Woods and Darrell Lutovsky.
Officials determined that the track still wasn't dry enough to allow the Super Late Models to run on, so with tow trucks, pace cars and members of the Cascade Push Truck Association tried valiantly to dry the track, but with the curfew approaching it was decided to cancel the race and it will be run at a later date in the season.
Coming up this Saturday will be Family Night Presented by Nelson Motorsports. The Monroe Grocery Outlet Super Stock Figure 8's will run, along with the Buzz Inn Steakhouse Stinger 8's, Northwest Pro-4 Trucks, V-8 Extremes and the return of the Northwest Pro-4 Alliance.
Tickets can be reserved online at www.evergreenspeedway.com or by calling the Speedway office at 360-805-6100.
Streets Stocks are allowed to purchase (2) new tires that do not count against their normal purchase rotation. This is (2) tires for the weekend not for each day. No Stockpiling. Any new tires purchased must be ran during this event. Tires from this event can remain in your tire inventory for future events.
http://www.mylaps.com/en/events/1281130
On Saturday June 11th Evergreen Speedway will hold our annual racers reunion. It is KLB Construction Night presented by NAPA Auto Parts. The night will feature the Speedway Chevrolet NASCAR Whelen All American Series Super Late Models, Les Schwab Street Stocks, Foster Press Mini Stocks, Buzz Inn Steakhouse Stinger 8's, Outlaw Figure 8's and Interstate Battery Hornets.
All former racers/promoters/employees are invited and will receive complimentary admission for themselves plus one. To obtain the free admission click Here and fill out the form. Tickets will be waiting for you at will call the night of June 11th.
Not very many race tracks in North America have been around as long as Evergreen Speedway and we hope as many of you as can come celebrate with us. We will be introducing the past racers as the night progresses.
For more information go to www.evergreenspeedway.com or call 360-805-6100.
Register Here for Free Passes for former Racers/Promoters/Employees
A Galloway Win can last a lifetime!
Monroe, WA-
When the field lines up for the running of the sixth annual Mark Galloway 150 Shootout Presented by Monroe Grocery Outlet and Shoreline Community College, fans will witness something of a "Class Reunion" of former and current Speedway Chevrolet Super Late Model Champions, several NASCAR Northwest Tour Champions, and a Northwest Super Late Model Series Champion.
This coming Saturday race is notable for those reasons above, but most importantly it honors the memory of a young man taken away from not only his family, but many friends, peers and racers who knew beyond a shadow of a doubt how special and meaningful his short time on this planet was.
The class of drivers who are competing in this marquee event include 4-time NASCAR Track Champion Naima Lang for example. He's taken the past few years off from racing the full season, understandably wanting to spend more time with his wife Jill and their growing sons. The constant has been up until this season that the dust would be blown off the bright blue Chevrolet when it came time to gear up for the Galloway. Naima was one racer who really knew Mark Galloway. Naima knew how dedicated he was to not only his chosen field of automotive technology, but also of Marks commitment to making Evergreen Speedway a better place to race.  When pressed, Naima will refer back to his winning of the inaugural Mark Galloway tribute event as the highlight of his career. That's saying something given that in addition to his numerous Championships in both the Street Stock and Super Late Model divisions, he's also achieved 2 wins at the Yakima Speedway Fall Classic, which anyone will tell you is no walk in the park.
Another former 2-time NASCAR Super Late Model Champion Shane Harding will be amped up for this race.  His stats are impressive with his Evergreen Championships and a Fall Classic win. Shane will tell you to your face that his win in the Galloway is as important as any race he's ever run. Both Jason Fraser and Kelly Mann have crossed under the checkered flag on the first big-track race of the year with Galloway victories, and those two cats have won some big time races over the years. The youngest winner of the Galloway, Tyler Tanner has spent the better part of the past 2 seasons racing in high profile Super Late Model races along with spending much of last year driving in the NASCAR Camping World Truck Series. Tyler is well aware of the importance of his 2014 Galloway win.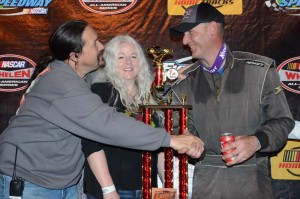 All told, fans of Evergreen Speedway will get to witness Lang, Harding and Tanner in the starting line-up for this year's Galloway 150 Shootout. Former Track Champion (2013) Daniel Moore will be driving his Monroe Grocery Outlet sponsored car. Two time and defending Champion Mike Holden will be there as well. Officials are looking forward to welcoming close to 40 of the best that the Northwest has to offer. Names like Ron Eaton, Pete Harding, Tom Barrow, Mike Longton will line up with a field of young drivers with names like Trenton Moriarty, Owen and Taylor Riddle, Parker Stephens, Jay Sauls, Gracin Raz, Jeff Knight, Doni Wanat, Molly Helmuth, Jason Kooy, Shane Sawin, Andy Sole, Tyler Baker  and many more.
At the end of the night, long after the victory lane celebrations have wound down, the interviews concluded and the crew will be loading up all it takes to bring a car to victory lane, one driver will be all by him or herself. And the reality of what they just accomplished will invariably set in. They will know that not only did they get a win over the best of the best, but they also won a race that honors the best of the best. Not a bad night's work.
A huge part of the Galloway race will be the support classes that will take to the asphalt. The Columbia River Legends bring their cars for a weekend INEX Regional qualifier event. These 5/8's scale full on race cars never fail to light up the crowd. Also scheduled will be the return of the WESCO Sprint Cars along with points races for both the Les Schwab Street Stocks and Foster Press Mini Stocks. Gates open at3pm with every racing action at 4pm,
Tickets for this amazing day and night of racing can be found at  www.evergreenspeedway.com or by calling the Speedway Office at 360-805-6100