We will honor motorsports champions and drivers from Evergreen Speedway, Evergreen Drift ProAm & Grassroots Series, Evergreen Drags and More! Make plans today to attend. Contact friends, sponsors and pit crew members to share and save this date.
WHERE: Weikel Events Center at the Evergreen State Fairgrounds
WHEN: Saturday January 17 | No Host Cocktails 4:45 | Dinner at 6pm | Music Following Awards
***Attendees Must RSVP – There will be no walk up ticket sales at the event***
Tickets are $45 – Assigned Seating – Tables of 8 or 10. Your Name is held at the event check-in.
TIP: Make arrangements with your team and RSVP all at once for easy seating arrangements.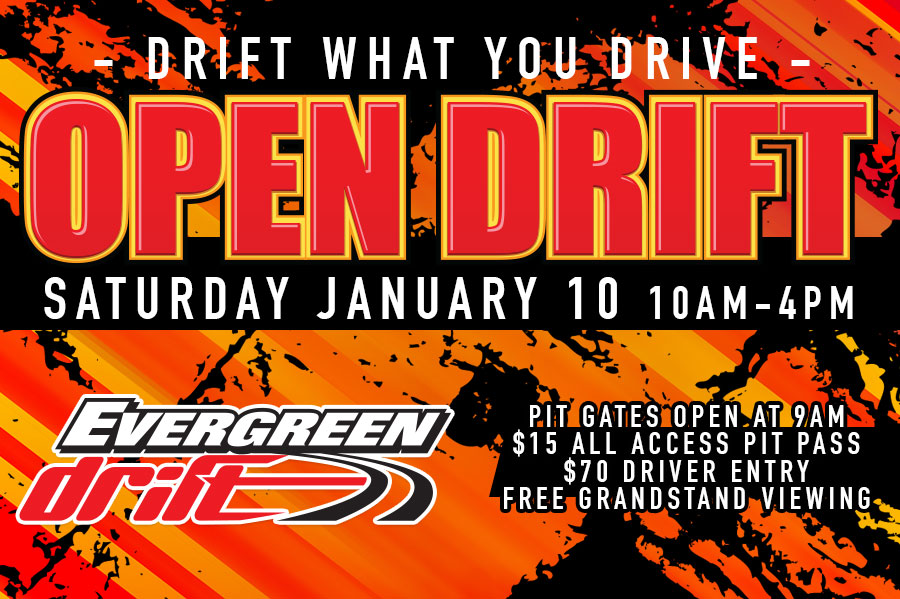 "Drift What You Drive" Open Drift – This event is open to all drivers and skill levels. Rain? No Problem. Whether you are a ProAm competitor, Grassroots or just someone looking to slay tires this event is for you. This is a non competition day. We'll be running from 10am-4pm breaking out early for the Seahawks game. #GoHawks
•Grandstands: Complimentary ( No Pit access.)
•Pit Pass – $15 (16+ and minors must have parent / guardian fill out waiver)
•Open Drift Driver – $70
Open Drift Schedule
Saturday Jan. 10
•9am- Back Gate Opens
•10am – Track is Hot
•4pm – Event Ends
See the Information link for additional details.
•Driver Instructions – http://evergreendrift.com/information/drivers
•Spectator Instructions – http://evergreendrift.com/information/spectators
First 25 Entries will Receive a $100 Gift Certificate from K&N Filters!