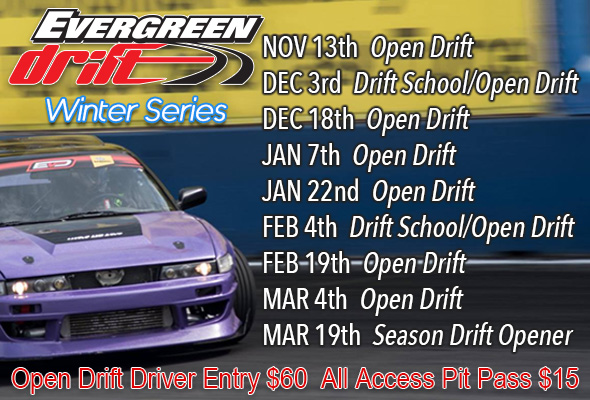 2016/2017 WINTER OPEN DRIFT – DECEMBER 18TH SUNDAY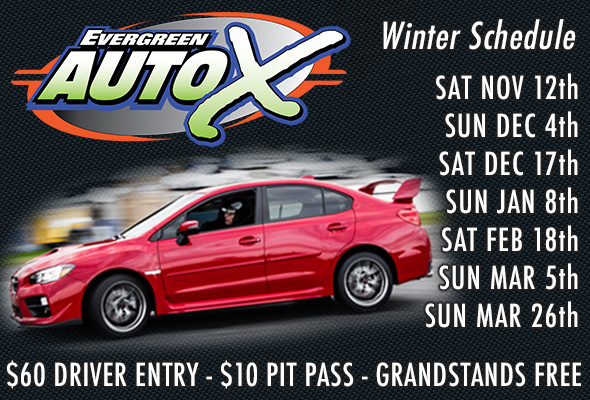 Registration for December 17th AutoX!
LIVE Timing / Past Events
Evergreen Speedway is happy to announce our partnership with Toys for Tots – South Snohomish County and we're accepting new/unwrapped toys at our office during normal business hours (9-5 Tue-Fri)  through December 21st! Please help us help children in South Snohomish County!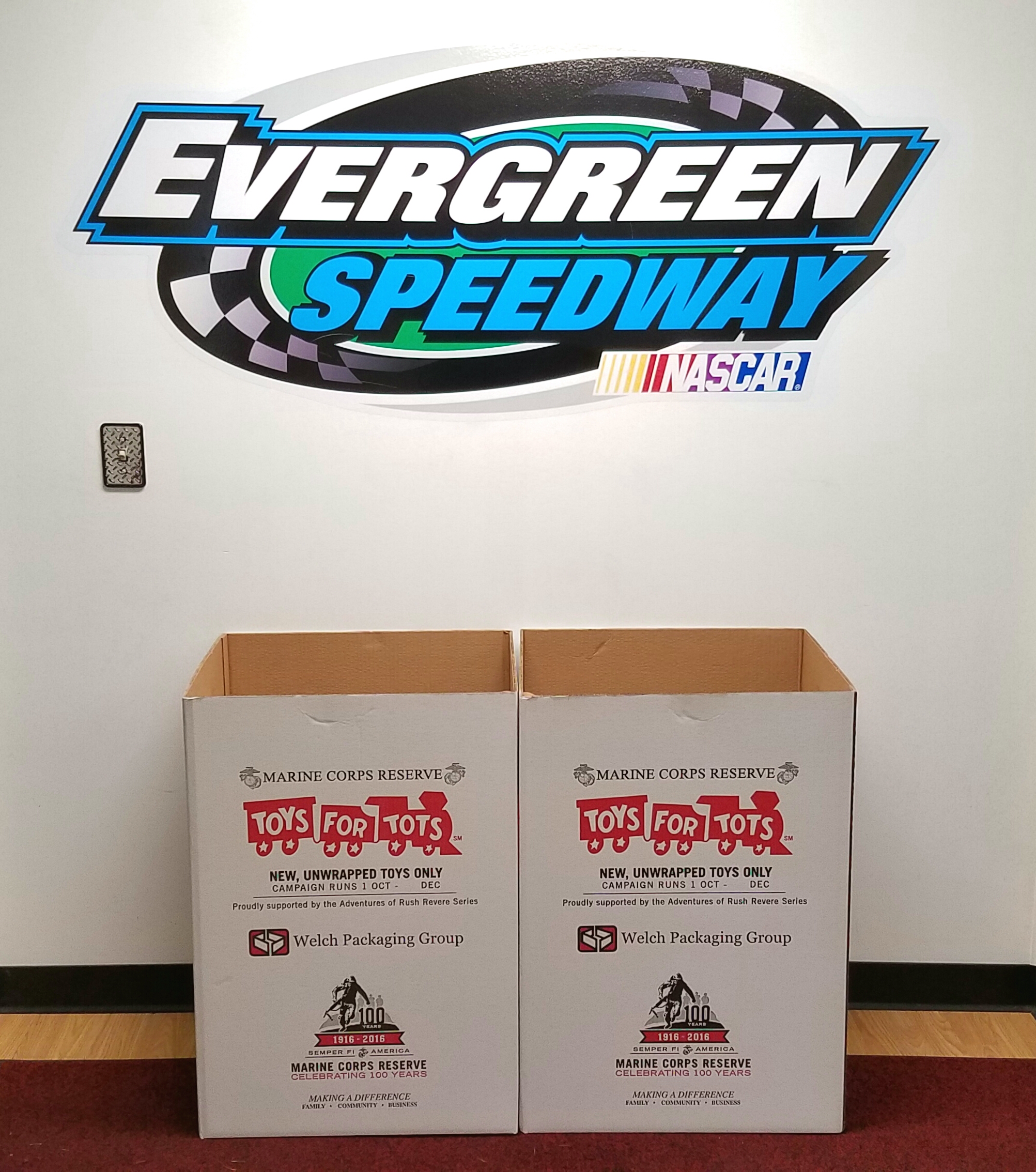 U.S. Marine Corps Reserve Toys for Tots Program
MISSION:
The mission of the U.S. Marine Corps Reserve Toys for Tots Program is to collect new, unwrapped toys during October, November and December each year, and distribute those toys as Christmas gifts to needy children in the community in which the campaign is conducted.
GOAL:
The primary goal of Toys for Tots is to deliver, through a shiny new toy at Christmas, a message of hope to needy youngsters that will motivate them to grow into responsible, productive, patriotic citizens and community leaders.
OBJECTIVES:
The objectives of Toys for Tots are to help needy children throughout the United States experience the joy of Christmas; to play an active role in the development of one of our nations most valuable natural resources – our children; to unite all members of local communities in a common cause for three months each year during the annual toy collection and distribution campaign; and to contribute to better communities in the future.
ACTIVITIES:
The principal Toys for Tots activities which take place each year are the collection and distribution of toys in the communities in which a Marine Corps Reserve Unit is located and in communities without a Reserve Unit that has a Marine Corps League Detachment or group of men and women, generally veteran Marines, authorized by Marine Toys for Tots Foundation to conduct a local Toys for Tots campaign. Local Toys for Tots Campaign Coordinators conduct an array of activities throughout the year, which include golf tournaments, foot races, bicycle races and other purely voluntary events designed to increase interest in Toys for Tots, and concurrently generate toy and monetary donations.
Thanks to Foundation Church in Everett, WA who has donated permanent warehouse and storage space to our Toys for Tots Program.
The facility address is:
Toys for Tots
c/o The Foundation Church
2730 Oakes Avenue
Everett, WA  98201
As Always – Thanks for your support!
For further assistance please contact:
Mary Butler:
[email protected]
(425) 309-0047
Please send checks or money order donations to:
Toys for Tots
5318 108th Street NE Unit B
Marysville, WA  98271
Thank you!
December 4th Registration Page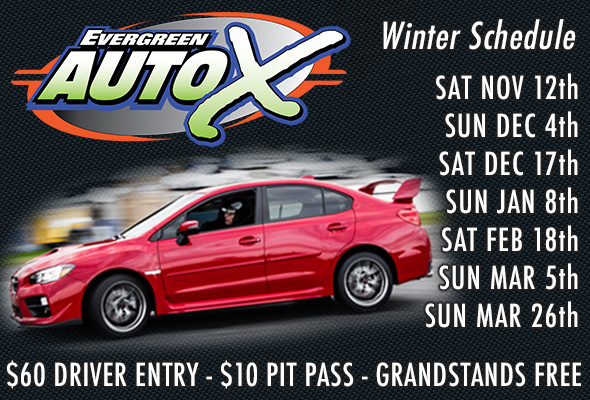 Sorry. This form is no longer available.
Registration
Here's the highlight video from our Pumpkin Smash Enduro by Shokunin Media!
It was an exciting night of racing at the Evergreen State Fair as all the main events produced dramatic results. Tyler Tanner cruised to a two car length win Saturday at Evergreen Speedway over Shane Harding and Andy Sole,  who matched his best run this year. Every bit as crucial as his second win of the season, Tanner picked up 22 points on leader Mike Holden who exited to the pits early for lengthy repairs.  The pair go into championship night with a mere 10 point spread. The battle is far from over, as Tanner historically has been superior on the big 5/8, but Holden picked up the first win of his career on the track just one week before. Only a top 5 finish will secure the title for Holden if Tanner carries his momentum to the close of the 100 lap finale.
Doni Wanat and Molly Helmuth brought the field down for the green for the final time on the 3/8 oval for 2014. Wanat surged into the lead with Brandon Scheiber in hot pursuit to close out lap one. Despite a couple strong challenges from the Genie Chevy of Shane Sawin, Wanat held the point through an early caution that collected Helmuth and her Frontier Communications Late Model into the front stretch wall. On the restart, Sawin grabbed the lead by a nose, but couldn't hold it through the first turn and Wanat came roaring back down the back stretch. Meanwhile Tanner, Holden and Harding were working their way through traffic after the 8 car invert. Tanner took over third on lap 6 and Holden got by for the spot 10 laps later. Holden didn't waste any time and driving like there's no tomorrow, set his sights on Sawin, who was already applying heavy pressure to Wanat for the lead.  Sawin looked inside for several laps before connecting with the back edge of Wanats bumper, spinning him out of the lead as they came down to complete lap 22 of the 125 lap grind.  Sawin received a black flag for his aggression, but was headed to pit road anyway to repair a rear tire flattened by Holden, who also collected the front stretch fence in the melee.
With the top 3 now out of the picture, Tanner inherited the lead with Harding in tow and never looked back.  After starting dead last, Andy Sole made his way through the early carnage to settle into the top five, eventually disposing of Peter Link and Jason Kooy for third. Sole took over second from Harding for several laps after a lap 75 restart, but wasn't able to hold it to the finish as Harding slipped back by to complete lap 90. Harding kept Tanner in his sights but never mounted a serious challenge and they crossed the line a couple car lengths apart with Sole right behind. Joe Constance and Kooy rounded out the top 5.
In other action, Trenton Moriarity held off Bobby DeYoung for his fourth win in his rookie season  in the Foster Press Mini Stocks and the two head into championship night tied for the lead in overall points. Lance O'Grain outdueled Jessica Gray in the closing laps of the Stinger 8 main to secure his first win of the season. The two traded the lead several times in the final three laps, with O'Grain squeaking by on the inside of the final turn for the win. In Vintage Modified action, Jim Palmer ran last for 29 straight laps, then slipped by everyone for the win coming out of turn four! First Bobby Wheeler Jr. and Kyten Jones got together for the lead in the closing laps, then on the final turn, Robert Rux collected leader John Mustered. Tom Smitham couldn't avoid and the trio gathered up Rux who was charging back through the field. Mike Clother and Jones slowed to avoid and Palmer slipped by everyone to collect the victory! Next up is Championship night for 100 laps for the Super Late Models on the 5/8 oval along with the Street Stocks, Mini Stocks, Hornets and the Pro 4 Trucks.