We will also have an open practice this Friday March 31 with Gates opening at 3pm and Practice 4pm-8pm.
Click image for printable format!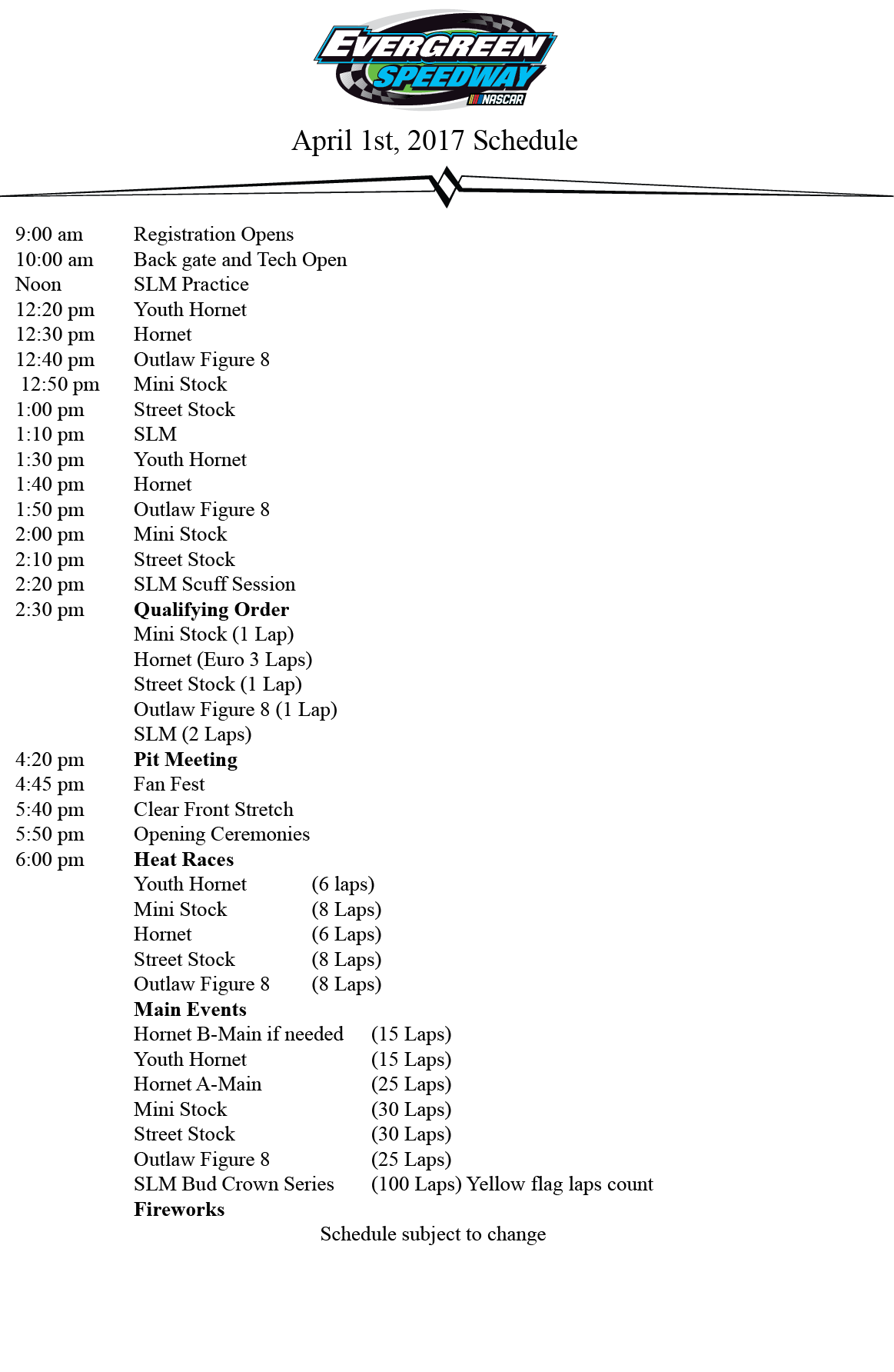 10am – Rookie Orientation (Under the Grandstands)
11am – Backgate Registration Opens
12pm – Backgate Opens
1pm – Track Hot
5-645 – Free BBQ
8pm – Track Cold
Pit Passes $30 – (Free With 2017 NASCAR License)
Tickets available HERE!
Special discounted pricing ends March 12th!
"Rookie of the Year" Registration Form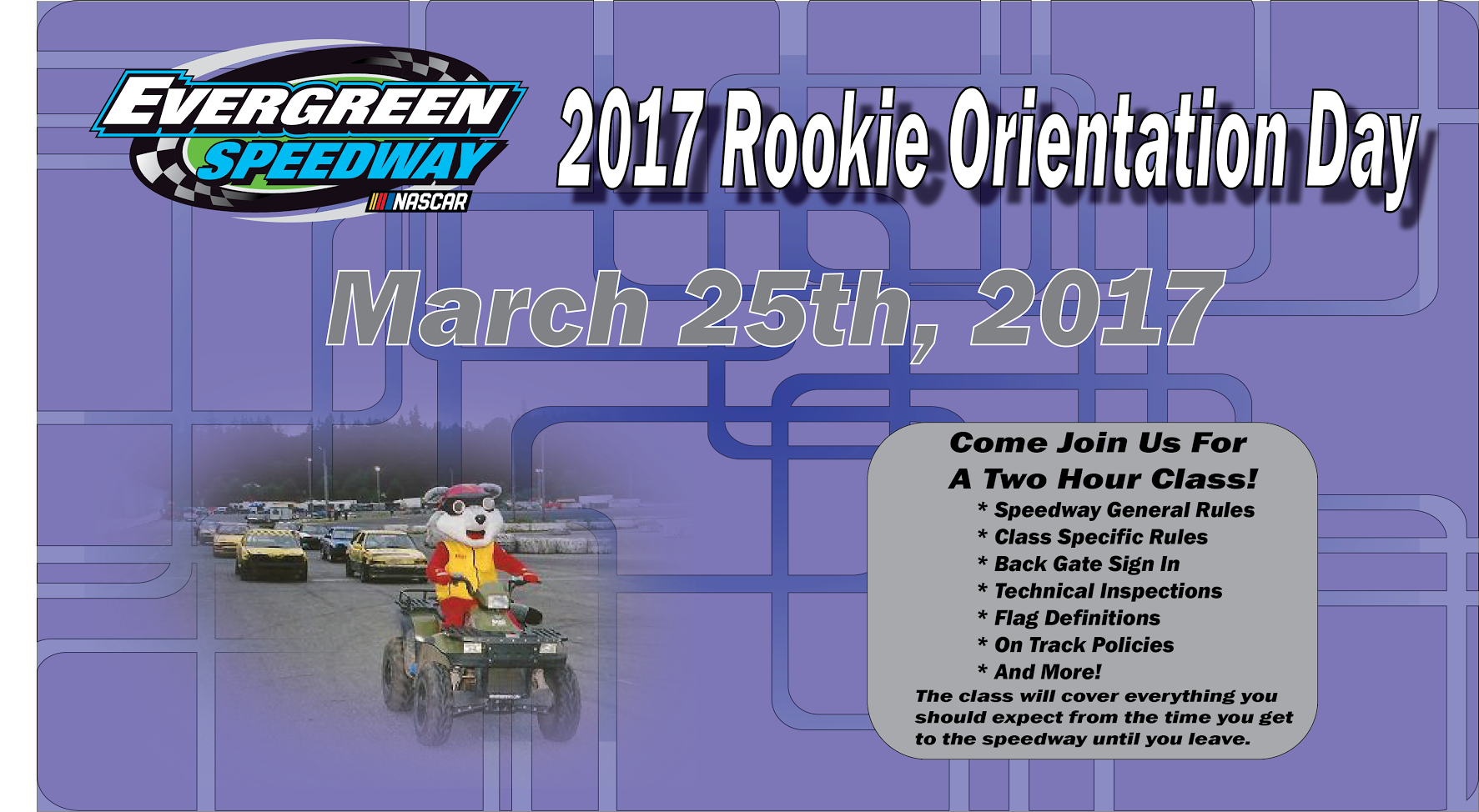 Summer Showdown Entry Forms Now Available
Once again Evergreen Speedway in Monroe, WA will host the biggest and richest NASCAR Short Track event in the country for the 6th Annual Summer Showdown July 20-22, 2017. The event has quickly become one of the most premier Super Late Model races in the country in its early stages featuring five different winners in the first five years. Drivers that have won the prestigious event have included NASCAR Truck Series Driver Cameron Haley and Georgia's Bubba Pollard who has said he will return to the Summer Showdown in 2017.
Drivers and race teams can now visit www.Evergreenspeedway.com for entry forms along with the 2017 event schedule. Pit stalls will be assigned as entry forms are received. Also a discount is offered for drivers on early entry forms.
The winner of the 2017 Summer Showdown will take home a minimum of $25,000 with possible additional bonus money that will be announced in coming months. The event has drawn an average of over 42 cars every year since the inception with that number growing each year.
The race has been held in June every year but was moved to July, allowing more drivers to compete in the event.
"When we started this event we wanted it to grow and become a must see race in the country." said Evergreen Speedway President Doug Hobbs. "The drivers and fans have responded coming from all over the country each year. We found a weekend in July that does not conflict with any NASCAR Truck Series, NASCAR K&N Races or any of the major west coast Super Late Model Series and believe this will grow the event more for 2017."
In 2016 Tayler Riddle became the first Washington State driver to win the race in three years. The Naches, WA young gun knows that it will be very tough to defend his Summer Showdown win.
"We came really close in 2015 but fell a little short and last year we had a great car and that field was really tough." Said Riddle. "It seems like every year more and more drivers from around the country are coming and I know that it's going to be tough to get the win for a second time but that has been our goal from last year to be the first two-time winner."
The Summer Showdown is one of six Budweiser Crown Series races at Evergreen Speedway in 2017. Over $240,000 will be awarded over the six race series.
Evergreen Speedway is located in Monroe, WA, on the Evergreen State Fairgrounds and is operated by High Road Promotions owners; Doug and Traci Hobbs. Evergreen Speedway is Washington state's only NASCAR track and is also home to international touring series, Formula Drift and Red Bull Global Rally Cross.
For More Information or to purchase tickets visit www.evergreenspeedway.com or call 360-805-6117.
Here's the TOP 3 Finishers in our 2017 Snowball Enduro
Presented by Interstate Batteries!
1st- Mike Jensen/Toby Jenkins
2nd- Daniel Walker
3rd- Dawson Cox / Matt Somerville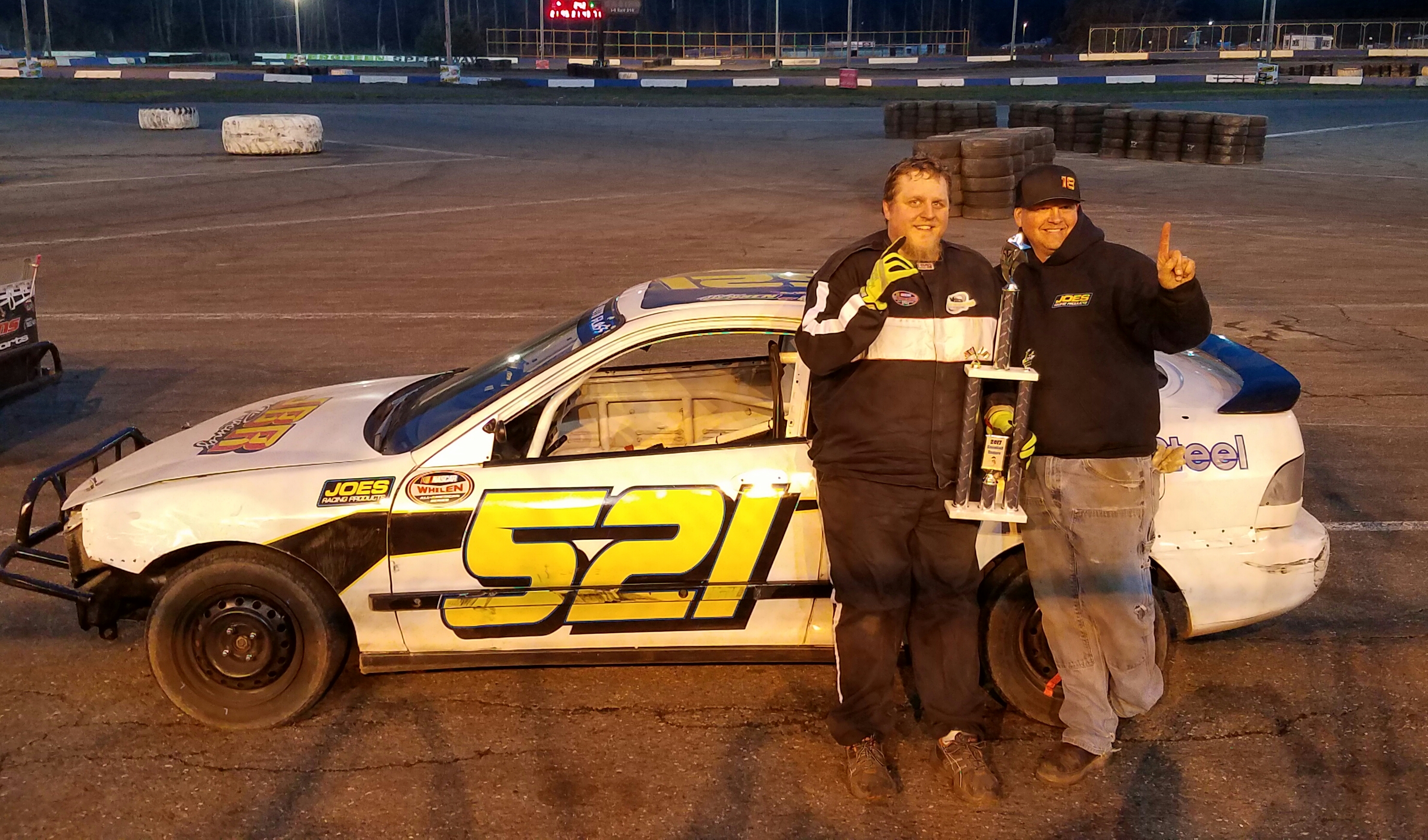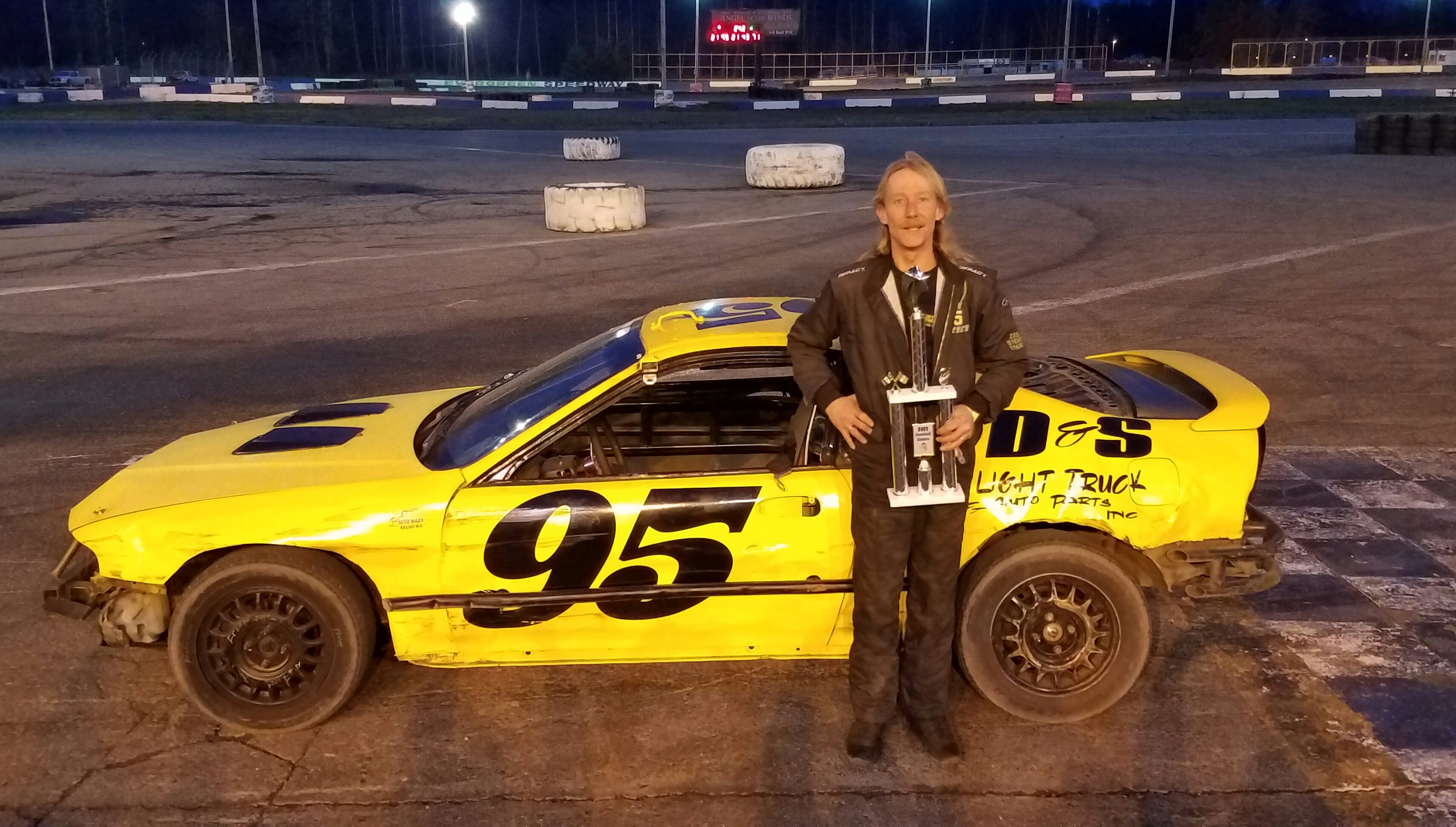 December 16, 2016
For Immediate Release:
Evergreen Speedway Promotions and Additions to Award Winning Staff.
Evergreen Speedway is very proud to announce the promotion of Kevin Guthrie to Director of Motorsports. Kevin has been serving as our NASCAR Technical Director as well as our Evergreen Drift and Evergreen AutoX Director. Kevin will oversee all motorsports platforms. He will handle all day to day operations including overseeing safety, technical, rules and race procedures for all divisions.
Working closely with Kevin, will be our new NASCAR Race Director, Jay Carpenter. Jay will also be taking over Drag Racing Director duties beginning this season. Jay brings NASCAR and S.C.C.A. racing experience as well as high level sports officiating skills. Jay will be supported on the NASCAR series with new corner spotters and a new Assistant Race Director.
Another key addition is Jeremy Anders. Jeremy will be the new Media & PR Director as well as Lead Announcer.  He will also oversee Group Ticket Sales, and assist with Sponsorship and Marketing. Jeremy's experience at the Town Center in Wenatchee and the Wenatchee Wild Hockey Team are the perfect complement to our continued effort for top customer service at Evergreen Speedway. Having grown up in racing, we welcome his experience and dedication to motorsports announcing.  His previous announcing experience includes Wenatchee Valley Super Oval, NW Super Late Model Series, Speed51.Com.
Steve Mortland will be joining Jeremy in the announcer booth for various events, as well as taking on new responsibilities for on line streaming, pod casting, recording driver interviews and other specials to reach our ever-growing worldwide audience. Steve will also be hosting a weekly race chat pod cast for the Pacific Northwest region.
Nicole Gruendl rounds out our front office team.  Her duties include Marketing Assistant, Driver Liaison, Special Events & Catering Coordinator.  Nicole has 20 years' experience in Marketing, PR and Public Speaking/Coaching.  She has a passion for all things automotive, and is a member of the Harley Davidson community.
Evergreen Speedway is located in Monroe, WA, on the Evergreen State Fairgrounds, and is operated by High Road Promotions owners Doug and Traci Hobbs.  Evergreen Speedway is Washington state's only NASCAR track and is also home to international touring series, Formula Drift and Red Bull Global Rally Cross.
For more information, contact Doug Hobbs 425 268 9994 or [email protected]
LIVE Timing / Past Events
All information displayed is to be considered unofficial.
This page will display live timing and scoring from Evergreen Speedway events. Live data is displayed in the box above and is automatically updated via information sent from the transponders attached to each car. There is no need to refresh the page during an event – it will automatically refresh each time a car crosses the start/finish line. 
NOTE: Once an event begins, you can toggle back and forth between 'Sort by Position' and 'Sort by Time' using the icon in the upper right corner of the scoring box above.
Click for printable .pdf version!